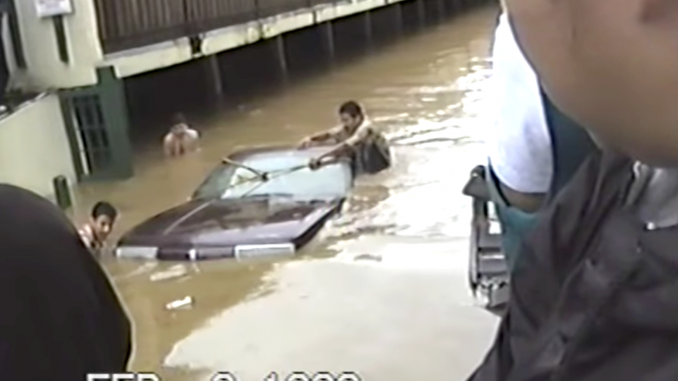 UNDER WATER — Residents of an East Palo Alto apartment complex succeed in pulling this car out of a flooded carport in the 1998 flood. The image is from a video posted by a local resident.
FIRST OF TWO PARTS
BY ALLISON LEVITSKY
Daily Post Staff Writer
Twenty years ago today, heavy rains pounded Palo Alto, East Palo Alto and Menlo Park, as they had done for days.
The flood hit overnight while most mid-Peninsula residents were asleep. San Francisquito Creek, which divides Santa Clara and San Mateo counties on its way to the San Francisco Bay, overflowed its banks at 1 a.m. on Feb. 3, 1998 just as the Bay hit high tide.
Five hundred residents were forced to evacuate and Highway 101 and the Palo Alto Airport were both closed. Some 1,700 properties in the three cities were flooded, and damages hit $40 million.
Locals can't shake their vivid memories of that day. Many cringe at the effects the fallout had on their lives and their neighbors.
Menlo Park Fire District Chief Harold Schapelhouman recalled using ropes and water rescue equipment to float a firefighter across 4- to 5-foot-deep waters to rescue a woman from her house in the Stanford Weekend Acres neighborhood, on Alpine Road. He had to coax an elderly man out of a small cottage that nearly dislodged, Schapelhouman said.
Menlo Fire Battalion Chief Tom Calvert remembered rescuing a man from a car that rushing water had wedged up against a utility pole on the 1900 block of University Avenue, where the water was flowing like Class Five rapids, he said.
The man looked terrified, holding onto the steering wheel with the lights on and windows up, Calvert said.
Calvert and two other firefighters backed up a fire engine to the car. Calvert and another firefighter got on the back of the engine and pulled the man out of his car seat and onto the engine. On West Bayshore Road, he recalled using a 75-foot fire engine with a ladder to rescue 30 to 40 people at a time from apartment buildings in chest-deep water, evacuating hundreds of people overnight.
Palo Alto's then-fire chief, Ruben Grijalva, said the flood was the largest emergency he had been involved with at that time. In the morning of Feb. 3, 1998, he recalls being shocked to learn that his department had activated a boat to drive down city streets inundated in 3 to 4 feet of water, rescuing people trapped under overpasses and pumping out basements.
Long hours for city workers
The city activated the emergency operations center in the basement of City Hall, calling on just about every employee in the city to work long hours. Many employees, including Grijalva, then-City Manager June Fleming, the department heads of the public works and utilities departments along with emergency responders, worked five to seven days without going home, he said.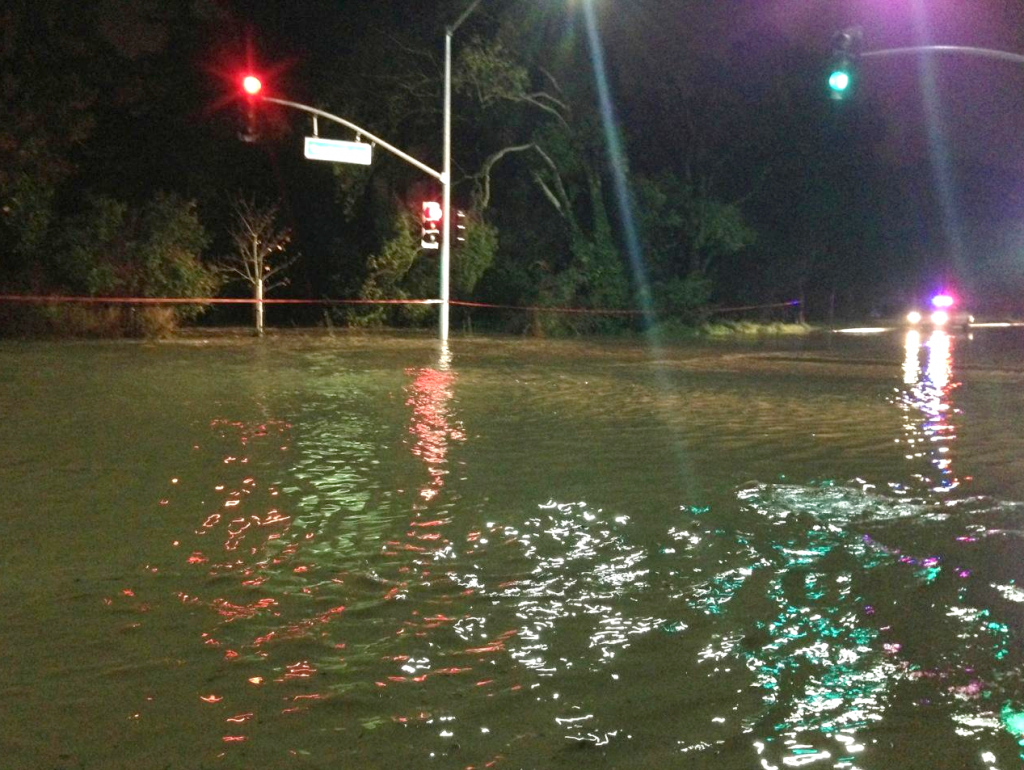 Despite the devastating property damage, Grijalva said he was grateful that no one was seriously injured or killed in the flood.
Winter Dellenbach's husband co-owned the Printers Inc. bookstore at 310 California Ave., which would close three years later.
"The rain was of monsoon intensity that night when we got a call at home from the store," Dellenbach said.
She and her husband loaded sandbags into their car in the Barron Park neighborhood and drove to the shop to find an otherworldly scene.
Cal Ave. was a lake
"Cal Ave. was now inundated, a lake that was well over the curbs and lapping at the front doors of the bookstore," Dellenbach said.
They plowed through the water, she said, stopping to set up a line of people to relay sandbags up to the store.
But the doors had already been barricaded against the flood with soaked copies of the New York Times, Dellenbach said.
"Thankfully, that day there was plenty of news that was fit to print and the bookstore was able to find refuge in the printed word," Dellenbach said.
Karen Ambrose Hickey remembers standing in knee-deep water at Colorado Avenue and Greer Road.
John Wiley, whose house sits 5 feet from the creek on Woodland Avenue in Menlo Park, paced up and down the street between 2 a.m. and 3 a.m. on Feb. 3, 1998, looking at the flood water levels.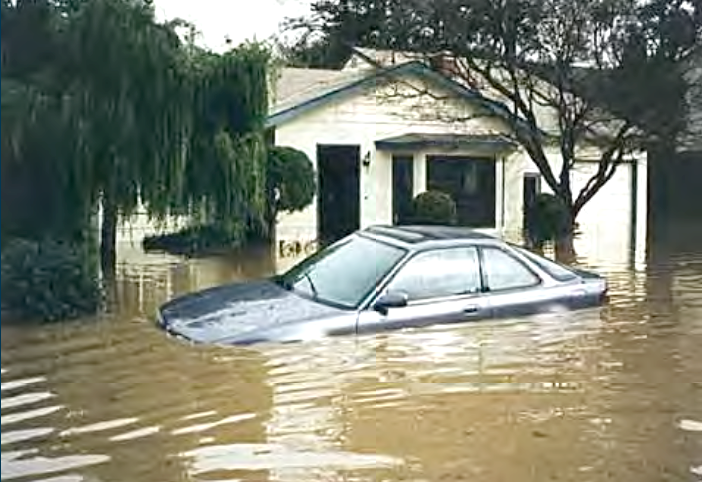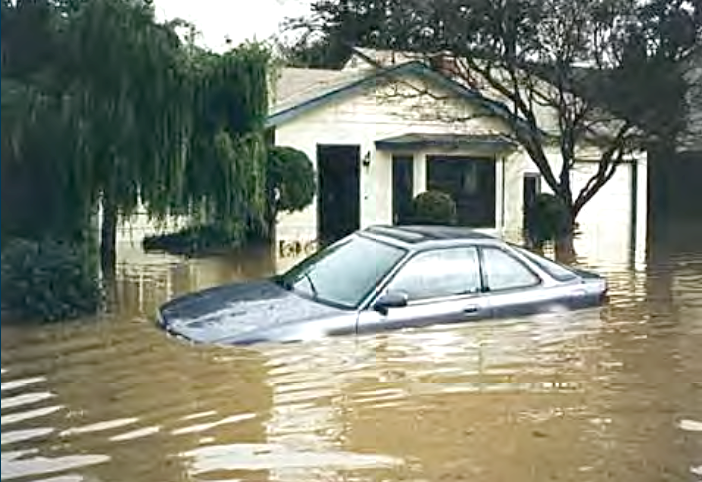 Terri and Dennis McKinsey's house on Sierra Court is 47 feet lower in elevation than where the water breached the banks of the creek at the Pope-Chaucer Street Bridge. The water flowed downhill and ended up in their cul-de-sac around 3:30 a.m. on Feb. 3, 1998. With the house deluged in 2 feet of water inside and 4 feet of water outside, the McKinseys evacuated to the corner of Oregon Avenue and Louis Road.
Boats used on flooded streets
Dennis McKinsey walked back to the house through waist-deep water and pulled out the family's aluminum boat from the backyard. He went around the 12 homes in the neighborhood and woke people up, making several trips to ferry people to fire engines that couldn't get into the neighborhood.
The neighbors he ferried ranged in age from 6 months to 81 years old, Terri McKinsey said.
Matt Greenfield says he put garbage bags over his socks, then pulled his shoes on to walk over to his best friend's house.
Daniel Corcoran's home on Embarcadero Road went unscathed because, he said, his father did the groundwork for the housing development and chose to move his family into one of the houses on high ground.
Todd Gjertsen wasn't so lucky. He said his yard was the low spot on Ross Road, so "everybody's lumber was pushing my gate open."
Carol Rogers was six months pregnant. She had a doctor's appointment in Redwood City and had to take her older children with her, but couldn't get on Highway 101. It took her two hours to get there on Middlefield Road.
"I was over an hour late for my appointment, but they took me anyway as people were just not turning up," Rogers said. "It took nearly as long to get back home afterwards."
Rescued by a dump truck
Rebecca Stillwell was working for the city of Palo Alto Utilities Department, keeping track of expenses for the Federal Emergency Management Agency.
"Problem was, I couldn't get to work in my Honda CR-X. They sent a huge dump truck to pick me up at Scott's Seafood on East Bayshore," Stillwell said. "One guy was sloshing down a street to clear storm drains and fell into a manhole. The lid had floated away! He didn't fall all the way into it, thank goodness."
Artist Robert Schick was living in a basement-level studio apartment with hundreds of his paintings and other pieces of work at 1349 Park Drive in Mountain View.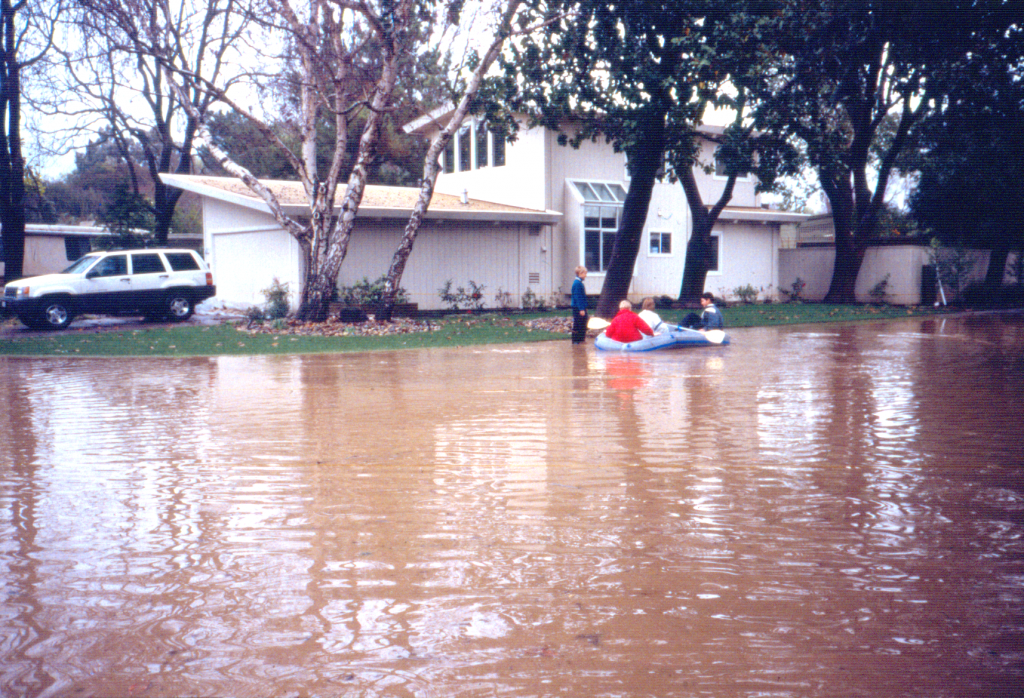 After the water started rising, he recalls storing some of his art on top of his kitchen counters, in his bathtub and on his dresser, which he had stacked on top of his bed.
Cathy Cunningham says she almost lost her house, which sits right next to the creek.
"I remember the next day seeing all the homes on University (Avenue) that were just destroyed, everything caked in mud," Cunningham said. "And they still haven't widened the bridge, so if it happens again, it will be just as bad."
Because the flood affected property across city and county lines, representatives from the cities of Palo Alto, East Palo Alto and Menlo Park along with the Santa Clara Valley Water District and the San Mateo County Flood Control District formed the San Francisquito Creek Joint Powers Authority on May 14, 1999. The regional agency would address flooding and environmental issues related to the creek.
But none of the planned projects to prevent future floods have been completed, with regulatory hitches and funding needs getting in the way. The Pope-Chaucer Street Bridge, blamed for much of the flooding, still hasn't been replaced.
TOMORROW: What's been done to prevent another flood?