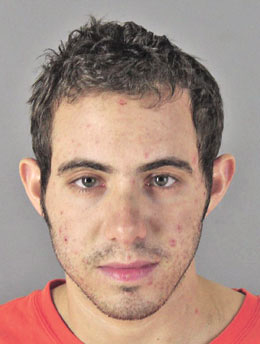 BY EMILY MIBACH
Daily Post Staff Writer
A former Stanford student was sentenced yesterday (Jan. 26) to four years and eight months in prison after being convicted of vehicular manslaughter and driving under the influence for a 2013 crash on Highway 101 that killed a man, a prosecutor said.
Zachary Katz, 29, who was a Stanford Graduate School of Business student at the time of the crash in South San Francisco, was facing up to nine years in prison, said San Mateo County District Attorney Steve Wagstaffe.
But because Katz showed remorse for his actions at yesterday's sentencing, Judge Leland Davis gave him the shorter sentence, Wagstaffe said.
Katz was found guilty by a jury on Nov. 17 after four days of jury deliberations for the crash near Sierra Point Parkway early on the morning of Oct. 5, 2013.
At 3:46 a.m. that day, Katz was spotted by a CHP officer driving the wrong way onto southbound Highway 101. After driving 1.75 miles, he then crashed head-on into a Ford Escape taxi that had a driver and two passengers inside, Wagstaffe said. One of the passengers, Pedro Soldevilla, 62, of Puerto Rico, was ejected and died at the scene. The other passenger was also ejected and suffered major injuries, while the driver suffered a broken foot, Wagstaffe said.
Katz will have to pay restitution to the family of Soldevilla, though the amount has not yet been determined, and pay $418,378 to the passenger who was also ejected from the car and suffered major injuries, Wagstaffe said.
After the accident, Katz was trapped in his car but was eventually extricated and a test at the hospital a couple of hours later found he had a blood-alcohol content of 0.13%, according to the District Attorney's Office. The legal limit is .08%.
The case was delayed for two years over appeals regarding whether the blood test was admissible in court, with defense attorney Geoff Carr arguing that Katz did not receive any admonition regarding his right to refuse the test without a warrant.
Eventually the blood test was allowed into evidence.