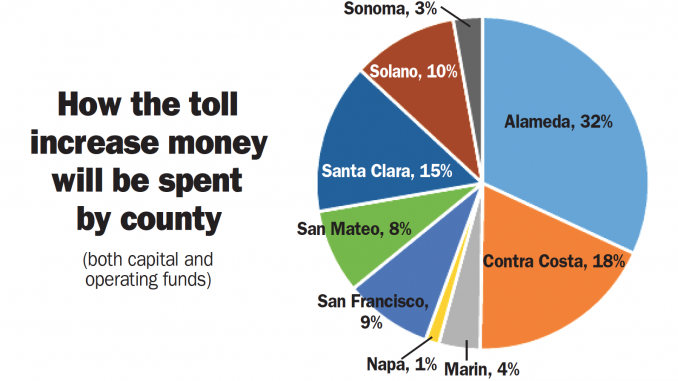 BY EMILY MIBACH
Daily Post Staff Writer
Bay Area residents will vote in June on whether to raise tolls by $3 for all Bay bridges in the region, except the Golden Gate.
The Bay Area Toll Authority voted unanimously to put the measure, known as Regional Measure 3, or RM3 for short, on the primary election ballot.
The toll hikes will bring in an estimated $4.45 billion in funding for transportation projects in the area, with 8%, or $360 million, going to projects in San Mateo County and $675 million, or 15%, going to projects in Santa Clara County. (Here's a link to the complete expenditure plan.)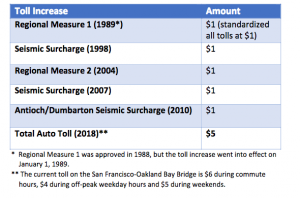 The spending plan for the toll hike shows $50 million will go to upgrading the interchange at highways 92 and 101, and $130 million to the Dumbarton corridor, though it is not enough to even tear down the rail bridge that was partially destroyed by a fire 20 years ago.
SamTrans' board of directors recently approved a study that lays out a number of possibilities for the bridge, which will have to be torn down to the tune of $150 million.
It is also unclear what Dumbarton projects could be funded because both San Mateo and Alameda counties will have to decide what projects to fund, such as reinstating the Dumbarton rail bridge or adding buses that would run from Union City to Menlo Park and Redwood City and another set of new buses that would go from Union City to Mountain View and Sunnyvale.
Getting a new bridge built in its place for either buses or trains would cost between $615.1 million to $1.829 billion, according to the report.
BART-to-San Jose to get more money
While Santa Clara County may be getting a larger slice of the pie, most of that will end up in San Jose, with $375 million earmarked for BART's expansion into San Jose and Santa Clara, and $100 million to redesign San Jose's Diridon Station.
It is possible that north Santa Clara County and San Mateo County may get some money from the programs the toll hike would fund, including a $150 million grant program for pedestrian and bicycle access.
The Metropolitan Transportation Commission will spend $300 million from the toll hike to add paid express lanes on freeways in the Bay Area. San Mateo and Santa Clara counties can compete for a piece of the pie to fund the estimated $505 million project to put in toll lanes on 101 from San Antonio Road in Palo Alto to Whipple Avenue in Redwood City and either toll or carpool lanes from Whipple to the Interstate 380 interchange in South San Francisco.
Caltrain to downtown San Francisco
The toll hike will also fund $1.135 billion worth of transportation improvements in the North Bay, and provide $325 million to extending Caltrain into downtown San Francisco.
The $3 increase would be phased-in over seven years, with a $1 hike in 2019, 2022 and 2025. The ballot measure requires a simple majority to pass.
The increases would move the peak hour toll on the Bay Bridge to $9 by 2025 and to $8 at all times on other state-owned toll bridges in the region, including the San Mateo and Dumbarton bridges.
In November 2016, Santa Clara County voters approved a half-cent sales tax that will raise $6.3 billion over 30 years. And this coming November, it's expected that a half-cent sales tax increase will go to voters in San Mateo County for transportation projects. A $100 million-a-year Caltrain tax will likely go to voters in 2020.