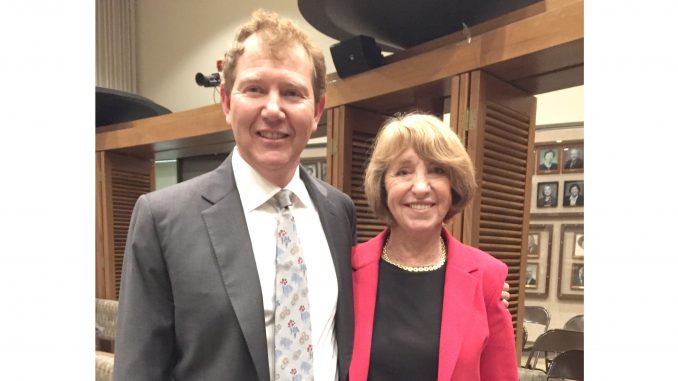 This story was originally printed by the Daily Post on Dec. 30.
BY ALLISON LEVITSKY
Daily Post Staff Writer
Palo Alto Vice Mayor Liz Kniss may soon be stepping up to serve as mayor a third time, which would make her one of only two women mayors on the mid-Peninsula for 2018.
It would also come three years after she served as vice mayor but didn't advance to the top spot.
"It's been a long time since I've done it. I would enjoy doing it again," said Kniss, who was mayor in 1994 and 2000.
Mayor Greg Scharff and council members Lydia Kou and Cory Wolbach said they thought Kniss would be elected mayor for 2018. The only other woman mayor serving for 2018 on the mid-Peninsula is Marie Chuang of Hillsborough.
Palo Alto's vice mayor hasn't always been a shoo-in as mayor for the following year. In 23 of the last 52 years, Palo Alto's vice mayor was passed over (see list below). The mayor and vice mayor will be elected at the City Council meeting on Jan. 8.
In 2014, slow-growth Residentialist candidates Tom DuBois and Eric Filseth were elected to what had been a more development-friendly council. At the time Kniss was vice mayor and was presumably next in line for the gavel. But in 2015, Kniss nominated Residentialist Councilwoman Karen Holman as mayor and Holman was elected to the post.
Kniss had said that she hoped the council could move beyond the partisan politics of the last couple of years, when the issue of development caused some friends to stop talking to each other.
Kou said she thought it was unfair when the vice mayor wasn't elected mayor, pointing to 2016, when former Vice Mayor Greg Schmid didn't get the mayor's post.
Who will be elected vice mayor for 2018 is anyone's guess.
"I think there are a lot of people who would do a great job at both jobs," Mayor Scharff said.
Councilman Cory Wolbach said he thought that anyone on council would be qualified to serve as vice mayor, but that he would accept the nomination.
"If my colleagues think I'm ready for it, sure," Wolbach said.
The mayor helps set the agenda for upcoming council meetings, chairs the city council meetings and represents the city in events such as ribbon-cuttings. The city manager, who is hired by the council, actually runs the city operations.
When there's a major crisis, the mayor becomes the city's de facto spokesman for the national media.
This coming year will be the last for a nine-member City Council. Council will go to seven members in 2019. That change was approved by voters in 2014.
Kniss, Kou, Greg Tanaka and Adrian Fine are in the middle of their terms and will remain until 2020.
In next November's election, only three seats will be up for grabs.
DuBois, Filseth and Wolbach will finishing their first terms at the end of next year and are eligible to run for re-election in November.
Scharff and Holman will be completing their second term at the end of 2018 and can't run again due to term limits.
PALO ALTO'S MAYORS AND VICE MAYORS
Mayor is shown first, followed by vice mayor. An asterisk (*) denotes a year in which the previous year's vice mayor became mayor. Before 1982, mayoral terms ran from July through June. After that, council converted to calendar-year terms.
2017 Greg Scharff, Liz Kniss
2016 Pat Burt, Greg Scharff
2015 Karen Holman, Greg Schmid
2014 Nancy Shepherd, Liz Kniss*
2013 Greg Scharff, Nancy Shepherd*
2012 Yiaway Yeh, Greg Scharff*
2011 Sid Espinosa, Yiaway Yeh*
2010 Pat Burt, Sid Espinosa
2009 Peter Drekmeier, Jack Morton*
2008 Larry Klein, Peter Drekmeier*
2007 Yoriko Kishimoto, Larry Klein*
2006 Judy Kleinberg, Yoriko Kishimoto*
2005 Jim Burch, Judy Kleinberg*
2004 Bern Beecham, Jim Burch*
2003 Dena Mossar, Bern Beecham*
2002 Vic Ojakian, Dena Mossar*
2001 Sandy Eakins, Vic Ojakian*
2000 Liz Kniss, Sandy Eakins
1999 Gary Fazzino, Lanie Wheeler
1998 Dick Rosenbaum, Micki Schneider
1997 Joe Huber, Ron Andersen*
1996 Lanie Wheeler, Joe Huber*
1995 Joe Simitian, Lanie Wheeler*
1994 Liz Kniss, Joe Simitian*
1993 Jean McCown, Liz Kniss*
1992 Gary Fazzino, Jean McCown*
1991 Jack Sutorius, Gary Fazzino
1990 Mike Cobb, Gail Woolley
1989 Larry Klein, Betsy Bechtel*
1988 Jack Sutorius, Larry Klein*
1987 Gail Woolley, Jack Sutorius*
1986 Mike Cobb, Gail Woolley*
1985 Leland Levy, Mike Cobb*
1984 Larry Klein, Leland Levy
1983 Betsy Bechtel, Gary Fazzino*
1982 Fred Eyerly, Betsy Bechtel
1980-81 Alan Henderson, Ellen Fletcher
1979-80 Alan Henderson, Byron Sher*
1978-79 Scott Carey, Alan Henderson
1977-78 Byron Sher, Frances Brenner
1976-77 Stanley Norton, Roy Clay
1975-76 Stanley Norton, Roy Clay
1974-75 Byron Sher, Alan Henderson
1973-74 Kirke Comstock, Enid Pearson
1972-73 Kirke Comstock, Stanley Norton
1971-72 Kirke Comstock, Stanley Norton
1970-71 Jack R. Wheatley, Frank Gallagher*
1969-70 Edward Arnold, Jack R. Wheatley
1968-69 Edward Arnold, Frances Dias*
1967-68 Frances Dias, Edward Arnold
1966-67 Frances Dias, William P. Rus
1965-66 Edward Arnold, Robert Debs