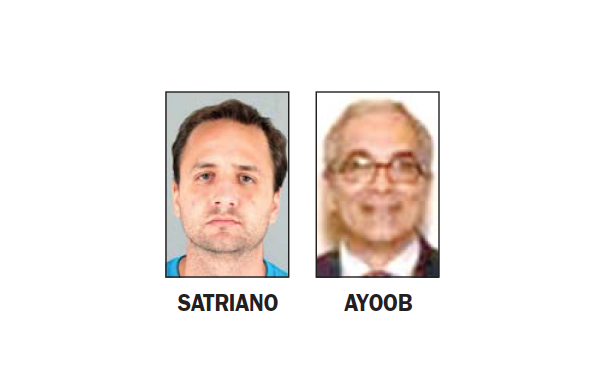 BY EMILY MIBACH
Daily Post Staff Writer
San Mateo County District Attorney Steve Wagstaffe's bid to remove a judge from a case involving child molestation and lewd pictures of children was denied Friday (Dec. 15).
Nonetheless, the defendant, Anthony Satriano, pleaded no contest to five felony charges and may receive up to eight years in prison from the very judge Wagstaffe's office was trying to remove.
The judge in question, Donald Ayoob, was scheduled to preside over Satriano's pretrial conference. Wagstaffe said he was worried Ayoob may not give a "fair evaluation" of Satriano's crimes. The DA had previously expressed his disagreement with Ayoob's sentencing of other sexual assault suspects.
However, Judge Susan Etezadi ruled yesterday (Dec. 15) in favor of defense attorney Steve Chase, who argued the DA's motion was filed too late.
Satriano was arrested in April for taking photos of children in "lewd positions" while they were in his care. Satriano was a teacher at St. Matthew's Episcopal Day School in San Mateo.
The children were between the ages of 5 and 8 while he was a preschool teacher and after-school teacher. There were no photos of nude children found.
After the motion to remove Ayoob was denied, the pretrial conference was held and Satriano, 33, of South San Francisco, pleaded no contest. Ayoob set the maximum prison sentence Satriano could receive at eight years and the minimum at three, Wagstaffe said.
In the eyes of the law, a no-contest plea is treated the same as a guilty plea. Both result in a criminal conviction. But defendants sometimes plead no contest so that their conviction can't be used against them in a civil case.
According to Wagstaffe, the maximum amount of prison time Satriano could have received was 20 years, but most of the time a sentence of that length is given for incidents when touching or penetration occur.
"I think it was appropriate (given) what was done here," Wagstaffe said.
But Satriano's attorney said he thinks the DA's call for prison for Satriano was motivated by "the pressure of the parents (of Satriano's victims) and their constant phone calls," Chase said in an email to the Post earlier in the week.
Satriano will be sentenced on Feb. 23, and is in jail on $2 million bail.