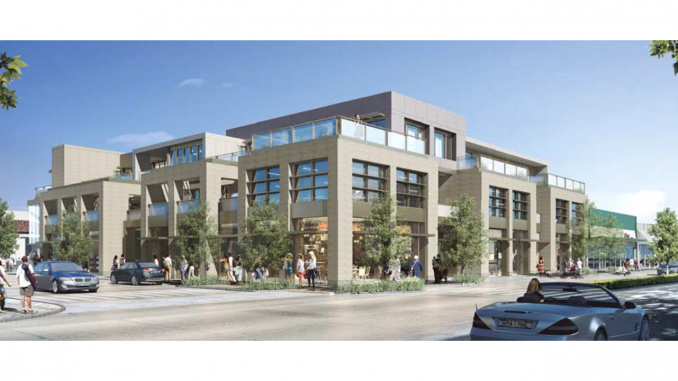 BY EMILY MIBACH
Daily Post Staff Writer
The Menlo Park Planning Commission on Monday (Dec. 11) delayed approving a three-story mixed-use development on Santa Cruz Avenue in downtown, with one commissioner saying he feared he would get a pie to the face if he allowed it to be built.
The commission reviewed the 40-foot-tall, 46,908-square-foot building proposed for 706 Santa Cruz Ave.
The building would have retail on the first floor, office space on the second level and four condos on the third.
Commissioners asked city planners, applicant Vasile Oros and architect Ken Hayes to take another look at the style of the building, as well as sidewalk and parking concerns raised by the owner of a neighboring building.
"I think that I would be at risk of being egged or getting a cream pie (in the face) at a meeting sometime if I supported this and this building (was) built in downtown," Commissioner Henry Riggs said.
Many commissioners noted this project is the first to be considered under the new zoning plan for downtown Menlo Park, leading them to tinker with the building plans a little more.
Riggs said the project looks much taller than three stories and lacks the "intimacy" needed in downtown Menlo Park.
"This would be fantastic on Page Mill or Sand Hill road," Riggs said.
Evelyn McMillian, the owner of the property at 1142 Chestnut St., which is behind the project, said she is worried about her retail tenants.
She said the proposed project's garage, which would face her tenants' windows, and construction could increase noise and traffic, leading the businesses to close.
McMillian requested that the sidewalk along Chestnut Lane, which is between the two buildings, be widened from its current five feet.
While most of the commission thought the garage placement was appropriate, members asked Associate Planner Kaitie Meador to see if the city could make McMillian's sidewalk bigger to improve pedestrian safety. The project will return to the commission later this year for a second chance at approval.