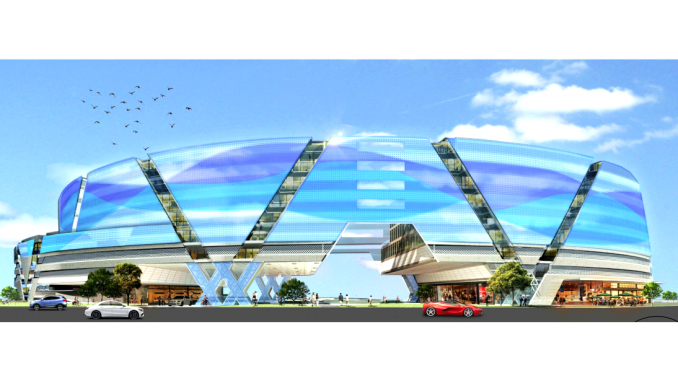 BY EMILY MIBACH
Daily Post Staff Writer
Some Burlingame residents and planning commissioners seem ready for the Jetsons-like development to land where the old Hyatt Cinema was located at 1300 Old Bayshore Road.
"My immediate response was wow, this project will really make a statement," resident Gay O'Brien said at a Planning Commission hearing Monday. She said the existing buildings the project would replace are drab and block the view of the Bay.
Steve Porter of Fox Bayshore Investments LLC of San Mateo wants to build two eight-story buildings that would be 99 feet tall at their highest points. They would house offices, stores and restaurants. The two buildings would be connected by an existing pedestrian bridge that spans Easton Creek. The 258,612-square-foot development would have 948 parking spaces on the second, third and fourth floors, with offices above.
The proposal has been compared to Apple's 2.8 million-square-foot spaceship building in Cupertino because the two projects have futuristic designs.
O'Brien and five others spoke in favor of the project, saying it is a much needed addition to the area.
"The dramatic architecture suggests this is the highest and best use of the location," said Ross Bruce.
Most of the commissioners agreed with residents, and Richard Terrones called the building "a nice balance" for the area and likes how the building is laid out, especially with the openness to the Bay that will be available for passersby and tenants of the office portion of the project.
Commissioners Brenden Kelly, Michael Gaul, Richard Sargent and Sandy Comaroto also expressed their support for the project to go forward.
However, Commissioners Peter Gum and Michael Loftis both said the development is not suited for the area.
"There is a lot I like about this building, and it could be iconic to the Bay Area and this location," Gum said. "(But) I'm not sure this is the right building at the right time."
Loftis said the building does not fit with the other buildings nearby, that it looks totally out of place.
The project will now go through the city's environmental impact review process before returning for approval.