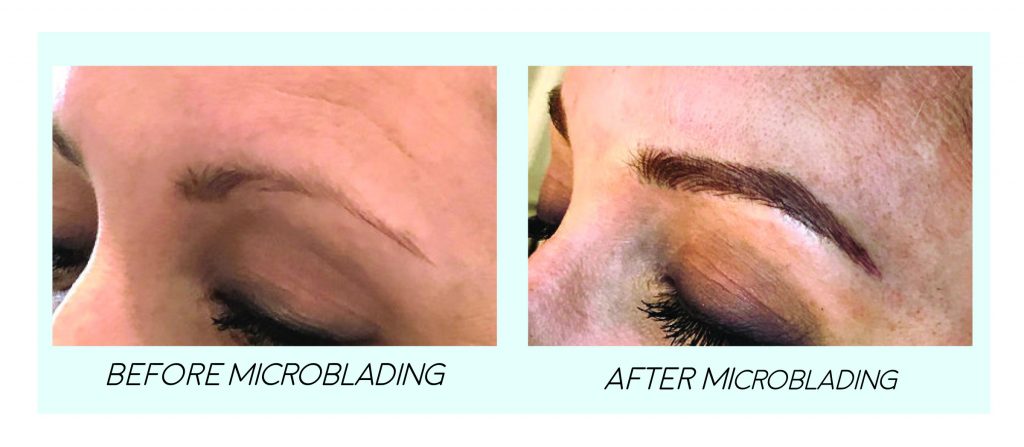 Have you always wanted fuller, more shapely eyebrows? Are you tired of the hassle of eyebrow pencils? Microblading, one of the latest trends in beauty enhancements, can give you the brows you want.
Katharine Harding is the owner of Strukture Studio in Redwood City, and she's a cosmetic tattoo artist who specializes in microblading. The process is a form of semi-permanent tattooing that involves using a hand-held microblade tool to apply color to the skin with fine, hairlike strokes. The technique allows the cosmetic tattoo artist to create attractive and surprisingly natural-looking eyebrows.
"Microblading looks like hair," Harding explained. "It doesn't look like makeup. It's super natural-looking. When you walk down the street, no one will know."
In fact, it's likely you've seen people who've enhanced their brows by microblading and never realized it.
Harding began her career doing digital marketing for tech companies but said she had always been interested in art and beauty. When she learned about microblading it struck a chord, because her sister was a cancer survivor whose brows never grew back. She's also seen clients who've lost their brows from overplucking or whose brows have thinned out as they've gotten older.
And of course, some people just love the idea of getting to wake up with beautiful brows every day and skip the hassle of makeup. The results of a microblading treatment last between 1-3 years depending on each individual's skin.
Harding creates a custom color blend for each of her clients in order to make the best brow color to match the client's hair and skin tone. She also consults with each client to determine exactly what shape and look the client is hoping to achieve.
And she is committed to using numbing medication so that all her procedures are pain-free. She's even had clients fall asleep in the chair while she does their brows.
Because microblading is essentially a very fine tattooing procedure, there is some healing involved and all clients receive an aftercare kit and a touchup six weeks after the initial treatment to make sure they get the exact results they are looking for.
In addition to microblading, Strukture also offers lip blush tattooing procedure that can enhance your pigmentation and give you the shape and symmetry you desire. It's especially effective for clients with lips that may have lost color and definition with age. The lip blush procedure heals in 3-4 days and gives you beautiful results for 3-5 years.
Harding also offers saline tattoo removal, an all-natural method that is gentler than laser tattoo removal.
For more information or to schedule a consultation, call Strukture at (510) 585-4989.