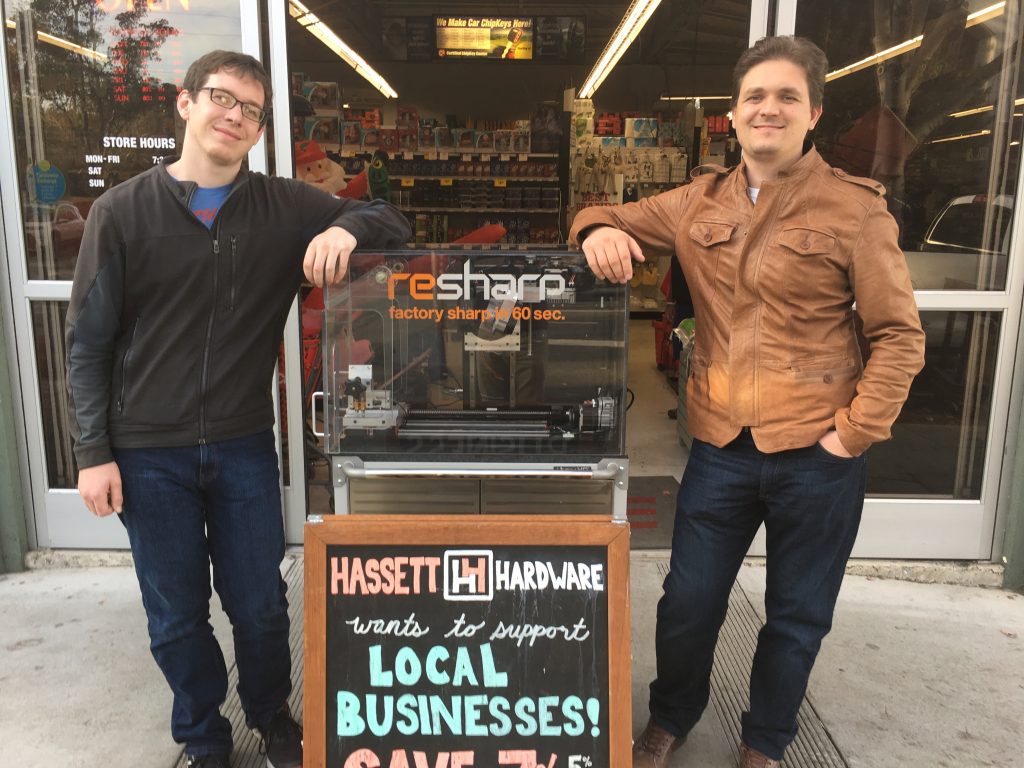 With Thanksgiving just around the corner, it's probably time to make sure your knives are as sharp as they need to be. Fortunately, there's a quick, easy way to get that done. Just head to Hassett Hardware at 875 Alma St. in Palo Alto, which has partnered with ReSharp Knife Sharpening.
Led by inventor and serial entrepreneur Jim Kolchin, ReSharp Knife Sharpening has created a machine that restores a factory edge to your knife in just 60 seconds. Their sharpening engine scans the edge of the knife and then grinds a perfectly controlled, burr-free bevel back onto the knife edge. The process is super easy and super quick. Just take a minute and watch (it's pretty cool), or go shopping and come back for your knives.
Born and raised in Russia, Kolchin came here 15 years ago and has started several businesses, including the appliance and HVAC business Smith Brothers Repair and an internet of things startup. But the problem of how to get knives sharp enough has always been at the back of his mind; in fact, it was part of his upbringing.
"In Russian culture," he explained, "a householder is supposed to keep the knives sharp. We have a saying, 'You can judge one's worth by how sharp their knives are.'  I'm always trying, but I didn't know how to sharpen them for the longest time."
And most people, he realized, don't know either. And so he set out to solve the problem, first as a human, and then as the programmer of a robot. The result is a high-quality, consistently reliable machine that does all the work for you — quickly and accurately, taking away the time drain and the hassle.
If you're a handy home cook, you know your knives are the tools you use most often, and the wear and tear takes its toll on their sharpness. So if you were worried about whether you were ready to carve a turkey or cut up the Christmas ham, now's probably the time to take care of that.
ReSharp is offering a "First Knife Free" promotion through the holidays. The process works for all blades between 3-12 inches long except serrated, scalloped or ceramic knives. The service is "on-demand" and available whenever the store is open. This is a complimentary service to Mark the sharpener at Hassett, more complicated stuff like serrated, ceramic knives, chainsaws and scissors he still has to do by hand and ReSharp just helps him handle the overflow. So don't wait — all you need to do is drop by Hassett Hardware.