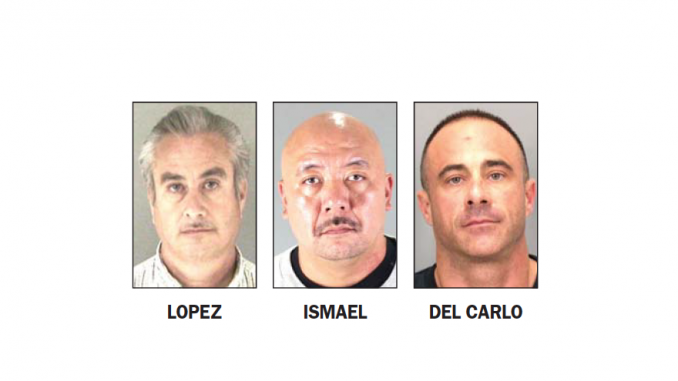 BY EMILY MIBACH
Daily Post Staff Writer
Charges against a correctional officer who helped smuggle drugs and cellphones into the San Mateo County jail were dismissed yesterday by a judge, a prosecutor said.
Judge Donald Ayoob dropped the two charges of conspiracy against correctional officer Michael Del Carlo, 46, because of evidence that should have been presented to the grand jury that indicted Del Carlo and his six co-defendants, according to a prosecutor.
District Attorney Steve Wagstaffe said he plans on refiling the charges against Del Carlo, which will require a new preliminary hearing for a judge to determine if the charges should be reinstated.
Wagstaffe said his deputy DA will likely refile the charges in a few days.
Del Carlo, fellow correctional officer George Ismael, 43, and Deputy Sheriff Juan Pablo Lopez, 54, conspired to bring cellphones and drugs into the jail for Hells Angels motorcycle gang member Dionicio Rafael Lopez, 30, the DA said.
Dionicio Lopez's mother, Leticia Lopez, 57, and two family members, Amanda Lopez, 27, and Roxanne Ingebretsen, 30, gave correctional officers cellphones to bring into the jail, Wagstaffe said. They also face conspiracy charges.
Juan Lopez ran against former Sheriff Greg Munks in June 2015 as a write-in candidate. But he was later charged with election fraud for lying about where he lived, Wagstaffe said.
Both this case and Juan Lopez's other case will next be in court on Dec. 1., Wagstaffe said.
Dionicio Lopez is out of jail on $1 million bail and the other six defendants are out on $10,000 bail.