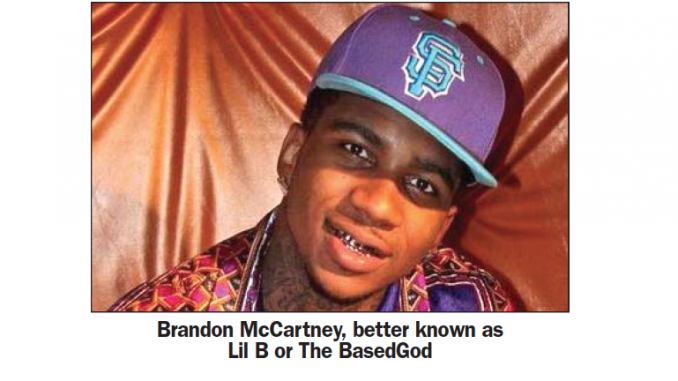 BY ALLISON LEVITSKY
Daily Post Staff Writer
A rap festival at Mountain View's Shoreline Amphitheater turned violent when a group of men attacked rapper Brandon McCartney, better known as Lil B or The BasedGod, before his set.
The fight was reported around 6:36 p.m. Saturday (Oct. 21) when the group, which is said to have included 21-year-old Artist Julius Dubose, who performs as A Boogie wit da Hoodie, jumped McCartney in retaliation to a comment that McCartney had made on social media about the performer who had gone on before him, according to police.
McCartney, a 28-year-old Oakland resident, said a bag containing laptops, a camera and cash was taken during the fight. Police were still investigating the theft as of yesterday (Oct. 24). No one involved in the fight saw the theft, but police said the thief is described as a black man in his 20s of medium height with a skinny build wearing red, white and blue clothing.
McCartney declined medical attention.
Around 1 a.m. Monday, McCartney tweeted that he and Dubose had had a conciliatory phone call.
"Had to make some unity moves," McCartney posted. "West Coast and East Coast unity."