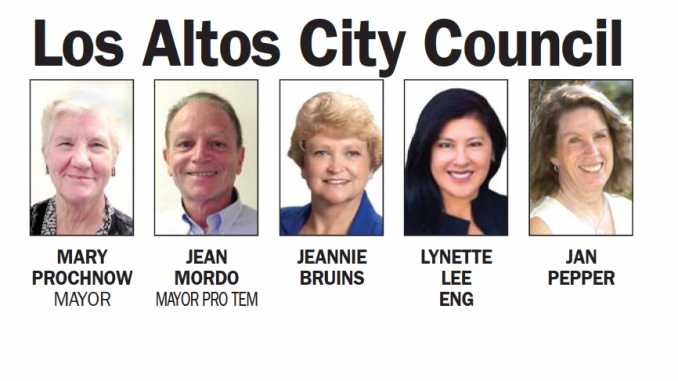 BY ALLISON LEVITSKY
Daily Post Staff Writer
Concerns about a lack of transparency at Los Altos City Hall are swelling among some current and former city leaders, including former Councilman David Casas and current Councilwoman Lynette Lee Eng.
Meanwhile, Mayor Pro Tem Jean Mordo and City Manager Chris Jordan, who Casas and Eng have accused of wielding too much power over council, dismissed the concerns as misguided or a political attack.
On Tuesday (Oct. 3), Mordo, Jordan and Mayor Mary Prochnow met with commission chairs to discuss meeting management and the new setup in the council chamber.
The meeting was closed to council and the public, which Casas said was inappropriate and wouldn't have happened when he was on council.
It was Casas' understanding that a planned topic of discussion at the meeting was dealing with "unruly" public commenters.
"By having that conversation in private, it negates the opportunity for the public to learn from the message, to understand the message and also to question why an individual may be considered unruly," Casas said.
Disturbed that she wasn't allowed to attend, Eng asked for the meeting to be taped. Jordan told her that was up to Prochnow. The meeting wasn't taped in the end, Eng said.
"All of these meetings have always been open to the public as well as open to other council members," Eng said.
Closed meeting called 'boring'
But Mordo and Jordan both said the content of the meeting was innocuous.
"It was totally boring," Mordo said, explaining that the meeting was "mostly to get (commission chairs) to give feedback on how it's functioning, whether the staff is providing good support."
Jordan also brushed off the concern, saying that many discussions do not "qualify as a public meeting" with council quorum.
"The mayor meets with people all the time," Jordan said.
Casas and Eng also accused Prochnow of rolling her eyes at a member of the Hillview Community Center Project Task Force when Eng was speaking at a joint study session on Sept. 26.
"She's modeling the behavior she expects in others, and I'm sure she would not appreciate the same behavior," Casas said. "It's a duty, either agree or disagree, to be respectful of each other, because by respecting another individual you respect the people who put them in office."
'Ridiculous'
Eng said she felt shut down at that meeting, which Prochnow opened by explicitly banning council members, task force members and the public from discussing a controversial proposed lease with Children's Corner, a private daycare that rents space at Hillview.
"That was kind of ridiculous and she wouldn't allow that into discussion," Eng said. Whether the city makes a deal with Children's Corner prior to redeveloping Hillview, Eng said, "does affect the site of the community center, so for her to already state that they're not allowed to discuss it was just wrong."
Prochnow did not return a request for comment.
At that study session, a classification of meeting reserved for discussion, not official decision-making, Mordo pushed for increasing the budget for the $25 million project to $32.7 million.
Eng said it was inappropriate that the increase has since been treated as a council decision when it was merely an idea floated at a study session.
"If you take action without putting them on public agendas, then I think that we're missing some steps," Eng said. "That's why things occur and then the public gets mad."
But Mordo said the differentiation in meetings was semantics.
"Whether you call this a study session or not, it was totally properly noticed, public input and everything," Mordo said. "We could have called it 'special meeting of the council' or whatever."
Casas and Eng criticized Jordan's practice of forming ad hoc committees to take action related to Hillview, like one to run the request for proposals that hired the architecture firm Noll and Tam, or one that met with Children's Corner to work out the terms of a lease.
Council also approved a contract with Noll and Tam without seeing it. Jordan said it was normal for council to not see the terms of a legal contract.
Who is in charge? The manager or council?
"There appears to be a lack of strong leadership within the council and that's allowing the city manager to basically manage the council, their process and the outcomes," Casas said.
But Mordo said that the informal committees are in the interest of efficiency. Jordan also touted his efforts for greater transparency, including a weekly newsletter, some website updates and a site for land use and planning documents.
"(Casas) is very opposed to several of us who are now on the council, so his comments are essentially influenced by the fact that he doesn't like us," Mordo said.