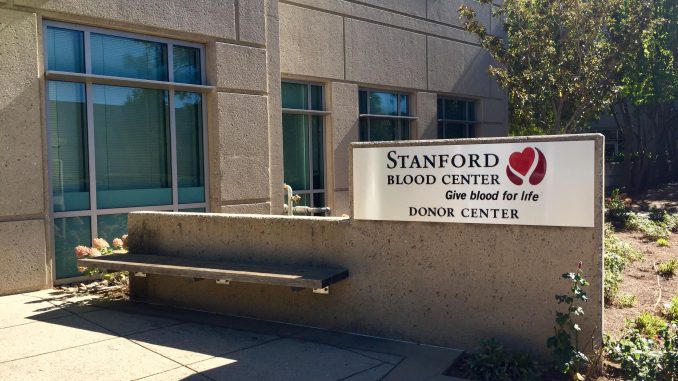 BY ALLISON LEVITSKY
Daily Post Staff Writer
The Stanford Blood Center hadn't even planned to open yesterday, but donors eager to help the victims of Sunday's mass shooting in Las Vegas showed up anyway.
The center opened the doors of its Palo Alto collection center after going on standby to provide blood to the 527 injured survivors of the massacre, which had claimed 59 lives as of last night.
Kaitlin Rak, 26, of Redwood City, had donated blood before, but not at Stanford. When she heard the news about Las Vegas, she decided to drive to Palo Alto to give blood.
"Hopefully, this makes a little bit of a difference, with so much tragedy that's going on," Rak said. "I just kind of wanted to give back to the community."
The blood center, which collects donated blood, platelets and plasma in Palo Alto, Mountain View and Menlo Park five to six days a week, had planned to close all three of its brick-and-mortar locations for an employee retreat yesterday, but ended up opening in Palo Alto until 3 p.m. yesterday to collect donations from eager donors.
Stanford posted on Facebook at 8:45 a.m. yesterday that it was anticipating a nationwide platelet shortage following the shooting and needed platelets immediately.
The center had not yet been asked yesterday to supply blood products to Las Vegas victims, but was "really just being prepared" in calling up regular donors and opening its doors to new ones, collection manager Renee Gipson said.
Some victims might go to Stanford

It's also possible that patients could be flown out to Stanford Hospital, blood center spokesman Loren Magana said.
"Our quick response was actually quite well received by the public," he added.
The centers will be open as usual today (Oct. 3) from 7 a.m. to 3 p.m. at 3373 Hillview Ave. in Palo Alto and 515 South Drive, Suite 20 in Mountain View, and from noon to 7:30 p.m. at 445 Burgess Drive, Suite 100 in Menlo Park.
Donors can find mobile blood drives by Stanford at sbcdonor.org.
Blood drives in honor of Las Vegas victims are also planned for Keller Williams Realty at 505 Hamilton Ave. in Palo Alto from 10 a.m. to 2 p.m. today (Oct. 3) and the Quad at Google at 369 N. Whisman Road in Mountain View from 10 a.m. to 4 p.m. tomorrow (Oct. 4).