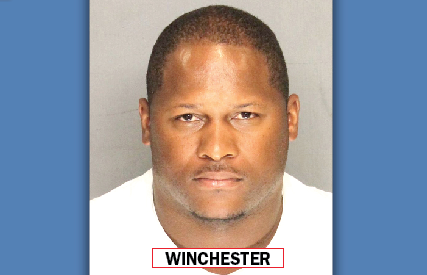 BY EMILY MIBACH
Daily Post Staff Writer
A judge yesterday (Sept. 13) threw out former San Mateo police officer Noah Winchester's attempt to discredit the testimony of one of his alleged sexual assault victims, a prosecutor said.
Winchester, 33, is charged with 19 felonies for raping five women while he was on duty. Two of the attacks occurred in 2013 when he was a police officer for the Los Rios Community College District in Sacramento and three more occurred in 2015 when he was with San Mateo police, according to prosecutors.
Winchester's attorney, Michael Rains, attempted to discredit the testimony of a woman who said she was raped and kidnapped on Oct. 19-20, 2015, at Coyote Point in San Mateo.
Winchester faces one charge of kidnapping and two charges of rape by threat to arrest stemming from that incident.
Both charges were upheld yesterday (Sept. 14) in court by San Mateo County Superior Court Judge Mark Forcum.
Winchester had encountered the woman earlier in the night. She had been at a party he had broken up. He found her later sleeping in her car at a near hotel. Winchester allegedly told the woman that she had choices as what she could do, and she opted to get a room at the hotel, according to both the defense and prosecution's filings.
The woman attempted to get a room, but was turned away for not having cash. Winchester told her he would take her to an ATM, but the woman said she would prefer to drive herself, according to the court filings.
The woman followed Winchester in her car, leading her to Coyote Point, where he then asked her if she wanted to go to jail. She replied no, and again Winchester told her she had "choices."
According to Rains' filing, Winchester never told her what her choices were, but assured her they would not be sexual and that the woman assumed they were sexual.
She then offered to have sex with Winchester and, according to Rains, she "never protested about what they were doing."
Let the jury decide
Forcum, by rejecting Rains argument that the charge should be dropped, essentially said it would be up to the jury to decide whose story to believe.
Forcum also decided to uphold a charge relating to a woman who Winchester allegedly groped and then told to take off all of her clothes. Prosecutors contend that Winchester had the intention to rape the woman.
However, Forcum decided to dismiss the three charges related to the Sacramento woman, but that merely reduced the number of charges relating to the woman from seven to four, according to Wagstaffe.
The charges dropped were two counts of sexual battery under use of authority and kidnapping with intent to commit another crime, said Wagstaffe.
The charges involving the Sacramento woman that remain include two counts of sexual battery by restraint and two counts sexual penetration by threat of use of authority.
This Sacramento woman encountered Winchester while he was an officer for the Los Rios Community College District. Winchester stopped the woman and her two friends and found out that the woman was a runaway and said he would take her to a shelter, according to court documents.
However, on the way to the shelter, Winchester searched the woman, including touching her rear end and vagina inappropriately, according to the prosecution.
Police didn't pursue case
The woman initially told police when she first reported the incident in 2013 that Winchester touched her inappropriately twice, but in 2015, told investigators the touching happened once, according to Rains' filing. The second allegation of touching was what was thrown out.
After the woman reported Winchester, Sacramento Police investigated him, but no charges were filed, according to the Sacramento Bee.
A second Sacramento woman came forward in 2015 regarding an incident where she was assaulted by Winchester on July 2, 2013, and the Sacramento Sheriff's department investigated Winchester, but again, no charges were ever filed.
Winchester, who resigned last year, is in jail on $3.1 million bail, and will be in court on Jan. 16 for a pretrial conference.