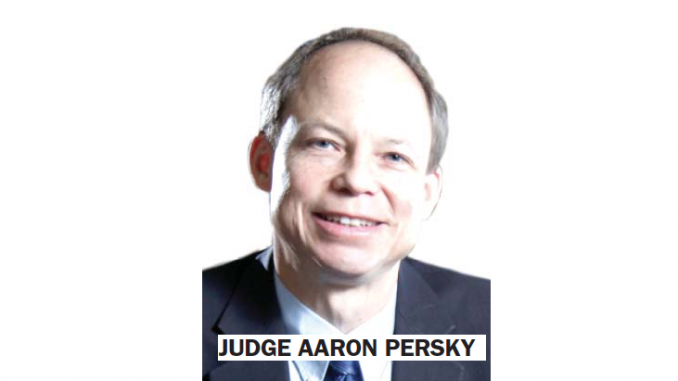 BY ALLISON LEVITSKY
Daily Post Staff Writer
Supporters of the Recall Aaron Persky campaign burst into applause at a court hearing in San Jose yesterday (Aug. 28) when a judge indicated that they could resume collecting signatures to get their recall measure on the June ballot.
Retired San Francisco Judge Kay Tsenin will issue a final ruling on Thursday, but sided with the recall campaign after oral arguments from both sides.
"There was never anything to any of his arguments. His arguments were frivolous from the beginning," recall committee chair Michele Dauber, a Stanford law professor, said outside the courthouse.
More than a dozen recall supporters, including Women's March Bay Area leader Jenny Branadini and Palo Alto Unified School District board member Jennifer DiBrienza, held signs outside and chanted "This is what democracy looks like" and "Women united can never be divided."
The Brock Turner sentence
Persky's six-month jail sentence for Brock Turner, a former Stanford swimmer who sexually assaulted an unconscious woman outside a fraternity party in 2015, inspired outrage about rape culture on college campuses and the role of race and class privilege in the criminal justice system.
"This is not just about Brock Turner," Dauber said. "Judge Persky has a long history of leniency in cases of sex crimes and domestic violence."
Tsenin also granted California Secretary of State Alex Padilla's motion to intervene in the lawsuit. Aaron Jones, an attorney for Padilla's office, was present at the hearing.
Is a judge a state officer or a county officer?
Persky filed the lawsuit against the recall supporters and Santa Clara County Registrar of Voters Shannon Bushey earlier this month after Bushey certified the campaigners' notice of intent to circulate the petition. He claimed that since he is a state officer, the notice should have been certified by Padilla, not Bushey.
Persky was not present for yesterday's hearing.
Tsenin sided with recall supporters on the issue of whether Superior Court judges are local officers.
"My check, when I was a muni court judge, came from the city and county of San Francisco," Tsenin said.
Persky's lawyers said they planned to appeal the court's decision if Tsenin doesn't change her mind by Thursday.
The ruling, recall supporters hope, will give them back the 17 days they lost to a restraining order granted to Persky earlier this month. The campaign only has 160 days to collect 58,634 signatures to qualify for the June ballot.
Tsenin is hearing the case instead of a Santa Clara County Superior Court Judge to avoid any conflict the local judges might have dealing with a case involving one of their colleagues.