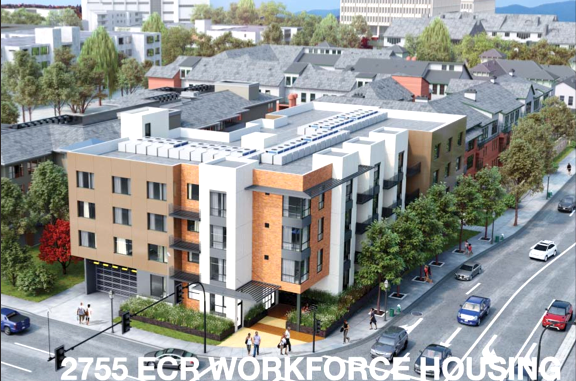 BY JEN NOWELL
Daily Post Staff Writer
A developer has submitted plans to the city of Palo Alto for a housing project consisting of smaller apartments possibly geared toward teachers, firefighters, cops and people without cars.
This would mark the first project like this in Palo Alto located at one of the city's busiest intersections — El Camino Real and Page Mill Road.
The proposal includes a 50-foot, four-story building at 2755 El Camino Real with 60 small apartments and 65 parking spaces.
The apartments would include 31 studios and 29 one-bedroom apartments, ranging from 502 square feet to 710 square feet, according to plans submitted Dec. 22 by developer Windy Hill Property Ventures.
The proposal for this site, where a VTA Park-and-Ride lot is located, went to City Council in September for a study session in which no formal action or vote was taken by council.
At that time, the term "micro-housing" was used to describe the smaller apartments that are proposed.
Claire Hodgkins, a city planner, told the Post yesterday that she doesn't know if she would consider these apartments small enough to be micro-units, but they are "generally smaller units than a lot of the units we have seen in planning."
The plans submitted by Windy Hill in December refer to the housing as "workforce housing," but Hodgkins said she is still reviewing the plans and hasn't yet determined what the developer is providing that would make the project workforce housing.
At the September council meeting, Tod Spieker of Windy Hill said he is willing to give preference to firefighters, police officers, teachers and city employees who are feeling the pressure of rising rents.
But there were some questions around whether housing could be rented out to a specific group of people. Hodgkins said part of the discussion going forward will be whether the housing will be earmarked for employees within the city or neighboring areas.
The 65 parking spaces would be provided through a stacking system which generally consist of one car driving in and a lift raising it up for another car to park underneath.
In September, the plans included only 45 parking spaces, which sparked concerns from several council members, but then-mayor Pat Burt said the way people are getting around is changing.
Developers are not fools, Burt said. They know there will be a demand from tenants who will not want to own a car, he said.
According to city code, a project of this size would typically require between 90 and 102 parking spaces. But as part of its proposal, Windy Hill is requesting the city agree to a lower parking requirement of 45 spaces, which in that case, the developer would be over-parked with 65 spaces.
Hodgkins said it remains to be seen if the city will grant the developer's request for a 45-space requirement.
Council is looking at this proposal as a pilot project that would create a new zoning category that would be used at this site for the first time ever to see how it could work.
Councilman Tom DuBois said in September he is not supportive of the project as it is proposed.
It feels like "spot zoning," DuBois said, where one place is zoned differently than the surrounding area. He said spot zoning creates uncertainty and erodes the trust between the city and residents.
The developer is asking for the ability to build more apartments on the site than what the city currently allows, DuBois said, adding that he doesn't see the benefit to the city in allowing that.
To build a housing project at this location, a zoning change would be required. The site is currently zoned "public facility," but the options for a privately-owned public facility site are limited.
Allowable projects could include a park, school or medical facility. Original plans called for offices The current plans are a far cry from the proposal that first came to council in September 2015 where council members slammed the idea for a four-story office building with four apartments on the top level.
The application and plans are currently being reviewed by the city's planning department. The proposal will have to go before the city's Planning and Transportation Commission and the Architectural Review Board before returning to council, Hodgkins said.