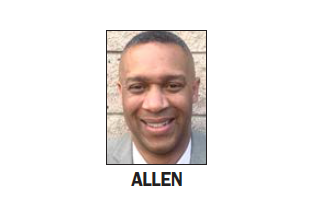 BY BRADEN CARTWRIGHT
Daily Post Staff Writer
One of the candidates for Santa Clara County Sheriff — sheriff's Sgt. Sean Allen — told the Post yesterday he was wrongfully arrested when he was 19 years old in San Jose, and the experience drove him to become a cop who is fair and transparent.
Allen became a reserve deputy and a jail officer for the Santa Clara Sheriff's Office 32 years ago. He says he has witnessed racism, corruption, sexual harassment and police brutality.
Allen has sued his department twice over the workplace conditions, and in 2014 he received $800,000 to settle a harassment and discrimination lawsuit brought along with two other officers.
The current sheriff, Laurie Smith, who is not running again, says one thing publicly, and does another thing behind closed doors, Allen said.
Allen, 51, said he is running to correct a broken culture.
Born in Palo Alto
Allen was born at Stanford Hospital in Palo Alto, lived in East Palo Alto, Milpitas and San Jose. He told the story of his arrest: He was driving around a friend on Capitol Expressway in San Jose and the friend's ex-girlfriend, and the two of them were fighting in his car. Allen eventually let them out.
The friend and his ex-girlfriend were both charged with domestic violence, and Allen was released after answering questions at the San Jose Police Department.
Eight months went by, and Allen was pulled over by an officer who said he a $70,000 warrant for kidnapping. Allen was arrested on a Friday, and he stayed in jail for four nights until a court appearance on Tuesday.
Allen's lawyer knew the case was bad, and the judge agreed. The case was thrown out.
"It was an awakening," Allen said.
Allen said after he was hired in the 1990s, he immediately saw segregation in the jail between white deputies and minority correctional officers, who receive a different training.
The white deputies referred to the jail division of the sheriff's office, the Department of Corrections, as the "department of color" or the "department of criminals," Allen said.
Allen said he wrote many complaints against other correctional officers for misconduct, and he watched Internal Affairs investigation go nowhere when he sent the complaints to management.
Allen said he would demote the undersheriff and all three assistant chiefs if he gets elected.
Before three correctional officers murdered Michael Tyree in a jail cell in August 2015, Allen said he warned the sheriff about one of the now-convicted officers, Jereh Lubrin.
Allen was a sergeant during the day and Lubrin was the sergeant at night, so Allen would see all of the grievances against him.
Allen said Lubrin once threw handcuffs at an inmate from a few feet away in front of other people. The incident was clear battery, but the chain of command rejected any charges and only re-assigned Lubrin for a few months.
He wrote up one of his opponents
Allen said he even wrote up one of his opponents, Kevin Jensen, when Jensen was assistant chief at the jail. Allen said that two people working for Jensen were harassing him, and Jensen did nothing about it.
Allen also brought complains forward on behalf of two gay officers because another sergeant was making inappropriate comments to them, and nothing happened.
If Allen is elected, he said he would create a citizens' oversight committee that would independently review allegations of abuse, discrimination and unnecessary use of force.
Opposes police radio encryption
Allen said he would un-encrypt police radios and release body camera footage whenever possible.
"I don't want to hide anything that's not protected by law," he said.
Allen said he would make the process for getting a concealed carry weapons permit fairer. He would dedicate a full-time employee or contractor to reviewing applications, and he would require applicants to take a class. The money for tuitions would be used to benefit victims of gun violence, he said.
Allen is in favor of building a mental health facility, not a new jail. He said the current jail has 2,500 inmates, and 40% of them have acute psychiatric issues. Yet there are only 48 beds for them, so they are triaged and then released.
Allen said he would bring diversity to law enforcement leadership. He doesn't want to be elected just because he is black, but also because he has different approaches and experiences. There has been only one black sheriff in California.
Allen said he is the only person in the race who has been holding others accountable. He challenged his opponents to show one time when they wrote up another officer for misconduct.
His views on other candidates
Allen said Kevin Jensen, who retired as a captain in 2013, is too distant from the issues. Sgt. Christine Nagaye has only worked in the jail, so she doesn't have the knowledge of patrol, Allen said. And Palo Alto police Chief Bob Jonsen has his own problems with transparency, Allen said.
Voters will begin receiving ballots in the mail on May 9. The election will be held on June 7, and the top two vote-getters will face off in November.