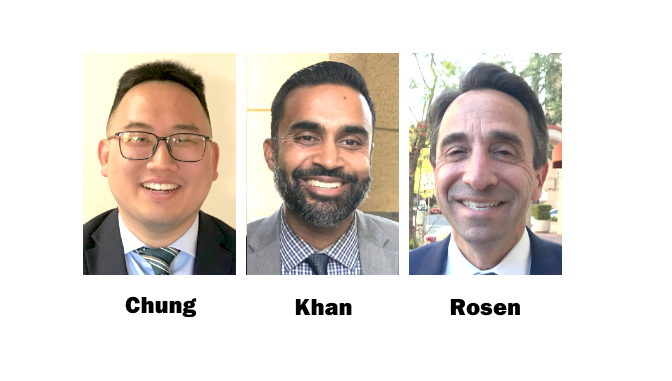 BY BRADEN CARTWRIGHT
Daily Post Staff Writer
At a candidate debate yesterday, Santa Clara County District Attorney Jeff Rosen said public defender Sajid Khan shouldn't be elected because he is a public defender.
"To be the District Attorney, you have to have a broad perspective," Rosen told the Democratic 21st Century Club. "You have to consider the interests of everyone in our community: police officers, crime victims, teachers, criminal defendants, judges, everyone. You don't have the luxury you have as a deputy public defender to only think about your client."
Santa Clara County already has Molly O'Neal as its public defender, so, Rosen asked, why should one of her deputies be District Attorney? He said electing Khan would be like having one of his prosecutors take O'Neal's job.
"You need to have balance in your system," Rosen said.
The candidates made their different approaches clear at a debate yesterday in Mountain View.
Khan criticized many of Rosen's practices, such as prosecuting children as adults and enhancing sentences based on previous crimes.
Khan said Rosen coerces guilty pleas by filing more charges than is appropriate, and he doesn't ask the right questions before filing a case.
"Yes the District Attorney is a prosecutor, but it should be about manifesting and embodying public safety," Khan said.
Rosen pitched himself as a balanced and experienced District Attorney, who uses both restorative and punitive justice to address crime. He said he has created a culture of learning in his office, and the county's criminal justice system is moving in the right direction under his leadership.
Khan said that he wouldn't be running if he trusted that Rosen's approach was in line with the county's progressive values.
Khan often used "harms" and "crimes" interchangeably. He said he would use his platform to address root causes and advocate for broader reforms, such as smaller classroom sizes.
If the District Attorney only talks about mercy and second chances, then Santa Clara County will have much more crime, Rosen said. He said that he strives for both rehabilitation and accountability.
Khan said jails are a "failed source of public safety" and he wants to create facilities that are "actually places of healing."
The candidates debated whether juveniles should be tried as adults. Khan said lobbied for a bill that outlawed the prosecution of 14-and 15-year-olds as adults, and he wants to offer the same to 16 and 17-year-olds.
Rosen said his office prosecutes 15 out of every 10,000 children as adults, and only in cases of murder, attempted murder and armed robbery. He defended prosecuting a 15-year-old boy as an adult, because the boy killed another person just to see what it felt like, after already experimenting on small animals.
He said Khan should talk to people in the boy's neighborhood about giving him a lighter sentence.
The one-hour forum was put on by the Democratic 21st Century Club, a group that supports Democratic candidates in Santa Clara County and has monthly luncheons.
Khan and Rosen are also competing against Daniel Chung, a former deputy district attorney who Rosen fired last year. If nobody gets more than 50% of the vote in the June 7 primary, then the top two candidates will face off in November.