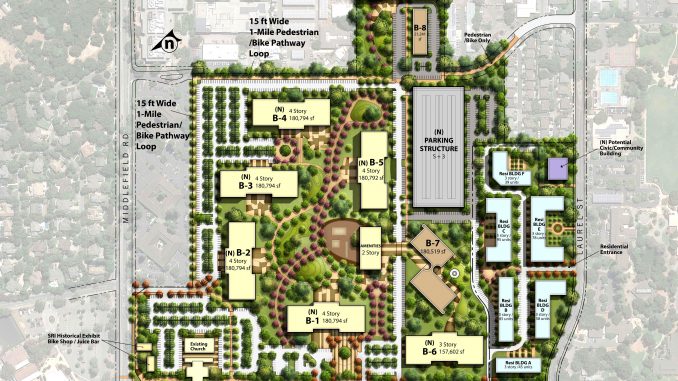 This story was originally printed in Wednesday's Daily Post. To get all of the local news first, pick up the Post in the mornings at 1,000 Mid-Peninsula locations.
BY EMILY MIBACH
Daily Post Staff Writer
SRI International wants to redevelop its 63-acre campus in Menlo Park into a neighborhood that would have at least 400 apartments as well as some of the research institute's offices.
The project will condense SRI's 38 buildings on the campus at 333 Ravenswood Ave. into nine office buildings, some of which may be leased out to other businesses, according to Mark Murray, principal at Lane Partners, the developer working for SRI.
The project has been dubbed Parkline.
Murray stressed that no additional office space will be added to the area, keeping the roughly 1.3 million square feet of research and development space that currently sits between downtown Menlo Park and Menlo-Atherton High School.
In addition to the nine office buildings, SRI is proposing to build five apartment buildings along Laurel Street. A sixth building may also be added along Laurel Street, a "potential civic/community building," is proposed across the street from City Hall and Burgess Park. What that community facility will look like will be a "topic of discussion" during Lane Partners and SRI's outreach to residents and the city.
Lane Partners has not settled on a maximum number of apartments for the project, according to Murray. However, Murray said his team will work closely with the city and residents on whether additional housing is in fact wanted for the site.
"We are balancing the need to deliver housing solutions while also being respectful of the campus location nearby existing single-family homes," Murray said.
The council has urged Facebook to add housing to its proposed Willow Village Project. Facebook has gone from initially proposing 1,500 homes to 1,729 in the five years since the social media company first unveiled the project.
Public access
Aside from the housing, another new aspect to the SRI campus will be that nearly all of its grounds will be open to the public. Murray told the Post that only a small portion of the grounds will be closed for research needs, but that will not impact the park atmosphere the development is going for.
A small amount of retail is slated for the corner of Middlefield Road and Ravenswood, across the street from Menlo-Atherton High School. There are no firm plans as to what will go in that space, but the development's website suggests a juice bar or bike repair station.
"We are ecstatic about embarking on this once-in-a-generation journey," Murray said in a statement. "This plan will convert the current research campus in Menlo Park's core into a new neighborhood."
Menlo Park Councilwoman Jen Wolosin, whose District 3 includes the SRI campus, said she looks forward to the review process, where the project will be scrutinized on its own merits and in relation to the city's housing plan update, which is just beginning.
SRI's proposal will go through the state's environmental impact review process, which includes studying issues such as traffic, noise, light and air pollution and if the project will increase the need for more housing.
Lane Partners and SRI will host a set of meetings beginning in July to hear feedback on the project and to inform residents about it.
"SRI has been a fixture in this community since before Silicon Valley became a household name — we are proud to have deep roots in Menlo Park," SRI Chief Executive Officer William Jeffrey said in a statement. "With this redevelopment, we are excited to continue building on our long history of discoveries making people safer, healthier and more productive.
History
SRI first opened in 1946 with funding from Stanford and has long been a leader in technology, with hands in inventing Siri, LCDs, the computer mouse and the internet itself. The research campus separated from Stanford in the 1970s.
SRI is not the only property in the area that could be redeveloped. Eyes have long been on the nearby USGS campus at 345 Middlefield Road. The federal agency is leaving its campus by next year, and plans have been for the federal government to sell the property. Both Congresswomen Anna Eshoo, D-Palo Alto, and Jackie Speier, D-San Mateo, have said they want housing on the site.
Previously, Menlo Park Councilman Ray Mueller floated the idea of letting people who live in RVs park on the site before the sale is completed. Mueller worked with Eshoo's office, federal officials and San Mateo County Supervisor Warren Slocum, but ultimately found out that letting RVs park on the site would take an act of Congress.
Currently, the site is zoned for public faculties, so unless another government entity buys the property and wants to build an office there, the property will have to be rezoned if it is to be used for any other purpose. No proposal has come in regarding the USGS campus.