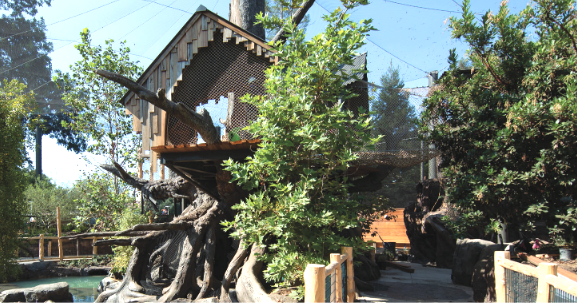 BY KYLE MARTIN
Daily Post Staff Writer
The organization that raised $25 million to remodel Palo Alto's Junior Museum and Zoo wants City Council to reconsider the $18 entry fee the city has proposed for the newly redone facility, saying it's too high.
Lauren Angelo, board co-president of the Friends of the JMZ, told the Post that her organization wants the fee to be closer to $6-$8. Admittance has been free.
She said the proposed $18 fee "is coming as a huge shock to the Friends and to our donors."
The council's Finance Committee — which is comprised of Pat Burt, Alison Cormack and Eric Filseth — is expected to reconsider the proposed fee today (May 4) at its 2 p.m. meeting.
Angelo said she hopes the committee will recommend a lower fee, "but I'm not sure that that's going to happen."
After spending the better part of a decade raising the $25 million to remodel the zoo and museum at 1451 Middlefield Road, she said "we're really concerned that it will undermine the goodwill of the community and it will really impact our ability to fundraise for the JMZ in the future, and will also have an impact on people willing to donate to other capital projects in the city."
"We're strongly opposed to it because we believe it will reduce the number of visitors, we believe it will actually lower the overall revenue," Angelo said. "Because so many people will be turned off and turned away by the exorbitant ticket price, visitorship will go down."
Vice Mayor Burt said he shares Angelo's concerns that the fee could be too high. He said the proposed fee seems to "assume that people's attendance won't be influenced by how people are charged."
Council in May decided to propose an $18 fee, something Burt said may have been rushed."
"We are still facing very severe budget impacts with even more cuts on top of those that were made last year," Burt said. "Everything that we do is going to be a difficult choice on how we spend our dollars."
But still, Burt said the $18 fee could discourage moderate- and low-income families from visiting the zoo and museum.
Filseth said he is still unsure what the committee's final decision will be, and that he would wait until the committee discussed the fee before commenting further.
"There's this concern floating around that maybe $18 is too much, and I understand the concern. So we have to work our way through this because the numbers have to add up," Filseth said, referring to the budget cuts brought on by the pandemic recession. "As a city, we're not out of the Covid woods yet."
And Filseth added that "my kids are grown and I think they're still going to like it, assuming we can get a plan that works here. (But) the money has got to come from somewhere."