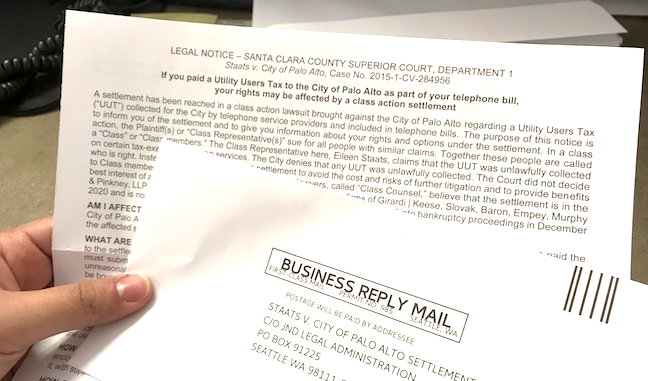 By the Daily Post staff
Palo Altans are receiving letters asking them if they want to receive a small part of the $1.275 million settlement from the city for overcharging residents on the telephone tax.
But don't get too excited about the size of the windfall. People who paid the tax are eligible for $8.25 per line for their first five phone lines, $7.50 per line for the next five lines and $6.50 per line for all remaining phone lines.
Resident Eileen Staats sued the city in August 2015 over the utility users tax the city added to phone bills.
According to the lawsuit, the city's telephone tax was tied to the federal excise tax. But when the Internal Revenue Service made changes to the excise tax in 2006, the city allegedly failed to update its telephone tax accordingly until 2014.
A settlement in the case could be finalized on May 27.
Under the agreement, the city would pay $1.275 million, which is 44% of the $2.878 million in alleged illegal tax the city collected during the time covered by the lawsuit.
Attorney fees of up to $425,000 would be paid out of the settlement fund. Staats would receive $10,000.
If approved by the court, telephone customers who paid the city's telephone tax between Dec. 24, 2013 and Dec. 18, 2014 would be eligible to receive a refund. Customers need to complete the claim form that was mailed to them in order to be eligible for a refund.
The deadline to submit claim forms is Aug. 30, 2021.