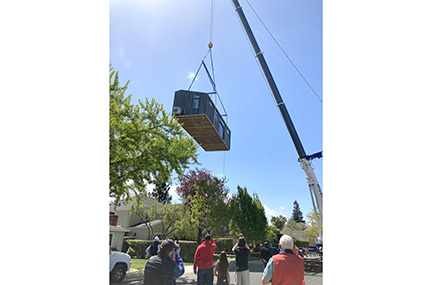 BY EMILY MIBACH
Daily Post Staff Writer
A crowd of people gathered to watch as a crane lifted a two-bedroom granny flat into the backyard of a Palo Alto home yesterday (April 20).
"That is so cool!" a passerby exclaimed.
Jessica Galbraith had emailed her neighbors the night before to let them know about the commotion that would be happening on Greenwood Avenue yesterday afternoon and invited her children's learning pods to come watch the crane. The children got a physics lesson on how cranes work as they watched the crane do its job, all the while squealing about whether or not the little house would drop onto the actual house.
Just before the 610-square-foot granny flat was placed in her backyard, Galbraith handed out popsicles to her neighbors and the school children. Galbraith said the flat — known at city hall as an accessory dwelling unit or ADU — will primarily be used by her college-aged daughter when she comes home from school and as space for her husband, Benjamin, and seven other children.
The pre-fab ADU was constructed and installed by Redwood City company Adobu. This was the company's first installation of a two-bedroom building into anyone's backyard, according to CEO John Geary.
A two-bedroom ADU starts at $259,000, that includes the unit, all on-site work, delivery of the ADU and working with the city through the permitting process.
The company has installed studio and one-bedroom ADUs in cities throughout the state, including San Jose and Los Angeles.