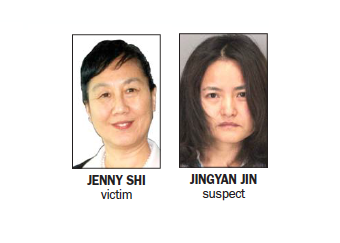 BY KYLE MARTIN
Daily Post Staff Writer
A Palo Alto woman accused of stabbing her husband's sister to death is expected in Santa Clara County Superior Court next month to set her trial after four years of delays.
Jingyan Jin, 45, is scheduled to appear at a trial setting hearing at 1:35 p.m. on Feb. 10 in Judge Eric Geffon's courtroom in Santa Clara County Hall of Justice Department 41 at 190 W. Hedding St. in San Jose, according to District Attorney Jeff Rosen's office.
She is accused of murdering her sister-in-law, Jenny Shi, on July 7, 2016, by stabbing her 41 times at Shi's home, 317 Creekside Drive in Palo Alto. Jin was arrested three months later on Oct. 6, 2016, her home at 777 San Antonio Road.
Jin has been held in the county's women's jail in Milpitas since her arrest.
Jin's case has been delayed several times since her arrest over four years ago.
Police linked Jin to the murder through DNA found at Shi's house. She began divorce proceedings with her husband, James Shi, in China, where the family is from, the Post previously reported.
Detectives in 2019 believed that Jin thought Shi was responsible for moving around assets and hiding money in anticipation of a divorce.