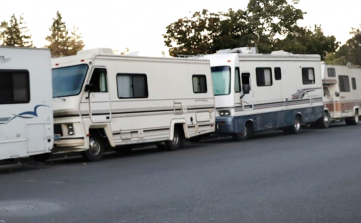 By the Daily Post staff
Mountain View Mayor Margaret Abe-Koga told the Post that residents can expect signs enforcing the new voter-approved RV parking ban to pop up on narrow streets as early as spring. And the signs could cost a total of $980,000, according to a city report.
The city's bitterly debated Measure C passed last month with 57% of the vote and will effectively ban RV parking on hundreds of city streets.
The council will discuss the measure at its meeting Tuesday. The ban applies to about 440 narrow city streets, Abe-Koga said, and 2,600 signs will be needed to cover all areas. The first area that would get the signs is the Monta Loma/Farley/Rock neighborhood, under a proposal going to council on Tuesday.
"The question is which streets do we start with?" Abe-Koga said. "We can't enforce until we put up the signs. That's going to take a couple months at least."
Abe-Koga has supported the measure, but opponents of it say the ban is racist for discriminating against poor people living in RVs, cars and vans, who are disproportionately minorities.
Former Mountain View Mayor Lenny Siegel told the council last month the city could be sued over the ban.