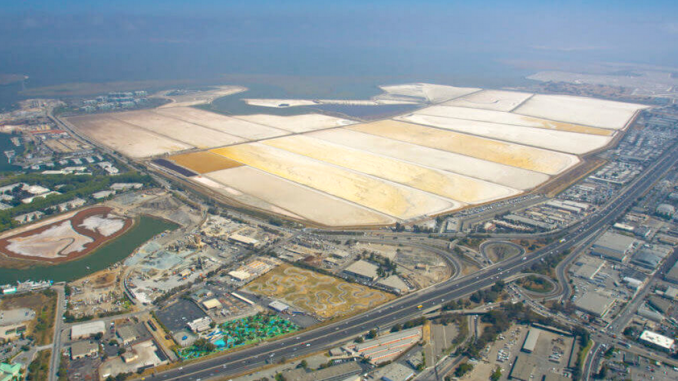 By the Daily Post staff
A federal judge decided yesterday that 1,356 acres of salt ponds east of Redwood City are subject to federal environmental protections, reversing a March 2019 decision by the Trump administration.
The ruling by Judge William Alsup is a victory for environmental groups who want to prevent Cargill Inc. from building homes on the ponds.
Salt has been harvested from the ponds dating back to the Ohlone Indians and later the Spanish missionaries, the judge noted in his ruling. Mission San Jose, established in 1797, produced enough salt to export quantities to Europe.
In the early 20th century, the ponds became a commercial salt production operation.
"Salt was taken in from the Bay by pumps and/or gated inlets, concentrated into brine by solar evaporation in sequential basins, and moved into small rectangular crystallizers to eventually crystallize as salt that was then harvested by hand," the judge wrote.
In 2008, a subsidiary of Cargill had proposed building as many as 12,000 homes on the salt ponds. Cargill dropped those plans in 2012 in the face of fierce opposition from environmental groups and local politicians. The plan also needed the approval of the U.S. Army Corps of Engineers and the Environmental Protection Agency.
The issue in the lawsuit before Judge Alsup was whether the salt ponds should be considered wetlands, and therefore under the jurisdiction of the federal government when it comes to environmental regulations and issuing permits.
The Obama administration's EPA asserted federal control over all waterways, including wetlands, that fed into ocean waters. The Trump EPA reversed that decision in March 2019, saying the salt ponds had been converted to "fast land."
California Attorney General Xavier Becerra and a group of environmental organizations including Save the Bay and San Francisco Baykeeper sued.
Alsup, in a summary judgment ruling issued yesterday, said the salt ponds were indeed wetlands, and they fall under jurisdiction of the federal government.
Alsup set aside the EPA's March 2019 ruling and sent the case back to that agency to consider the matter again, this time applying the legal standards he had set forth.