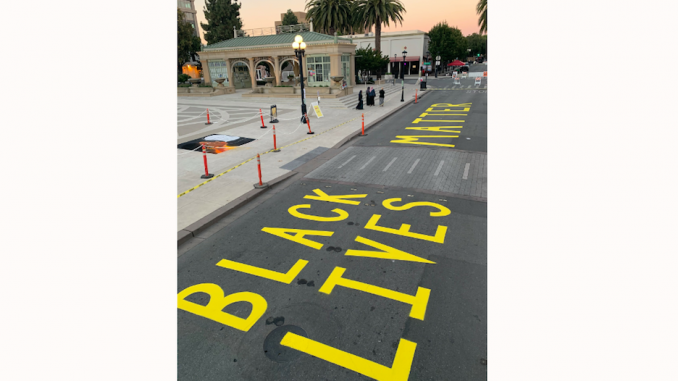 BY EMILY MIBACH
Daily Post Staff Writer
Redwood City Manager Melissa Stevenson-Diaz said tonight (July 27) that the city removed the Black Lives Matter mural on Broadway in front of Fox Theater because people were "confused."
The three things Stevenson-Diaz listed people being confused about were: if the mural was temporary or not, if Broadway was now being used for public art on an ongoing basis and if Broadway was going to be closed to traffic.
Last week, city spokeswoman Jennifer Yamaguma told the Post that the mural was removed because the city was worried about "driver confusion and accidents."
But no significant traffic accidents occurred because of the mural.
Stevenson-Diaz spoke about the mural during tonight's virtual city council meeting hosted on the Zoom web conferencing platform after a handful of people spoke during the meeting's public comment period to express their disappointment that the mural was removed.
One commenter noted with disdain that the city's removal of the mural was praised by right-wing media outlet Breitbart.
The removal of the mural has gone viral because resident Maria Rutenburg requested to be able to paint "MAGA 2020" along Broadway near the Black Lives Matter mural. MAGA refers to President Trump's slogan "Make America Great Again."
Rutenburg requested to paint the slogan on the same day that her fellow resident Dan Pease was painting the Blak Lives Matter mural.
Pease had received permission from the city to paint the mural, which was informally approved as part of the city's chalk artwork that was installed at Courthouse Square and the city council's decision to preserve some of the art done on plywood boards front of the Fox Theater and other businesses in Courthouse Square before the Black Lives Matter march on June 2.
Stevenson-Diaz said that the mural was intended to be temporary and wanted the initial installation to be done quickly. But because the city did not go through a regular process, the confusion she cited as the reason for the removal of the mural, occurred.
Stevenson-Diaz also noted that there are "a lot of different perspectives in the community" about the mural and whether it should have been removed. Of the dozen or so people who spoke during public comment at the meeting, none thanked the city for removing the mural.
Stevenson-Diaz said that while the mural may be gone, the city is still trying to reduce the inequities that some Redwood City residents face, and pointed to the city's upcoming "listening sessions," where she, members of council and other officials will hear from residents about their experiences with police and other inequities they've faced in Redwood City.
After making her statement, a few meeting attendees unmuted themselves and yelled things such as "Bulls***" and "hate speech isn't free speech."
ᐧ