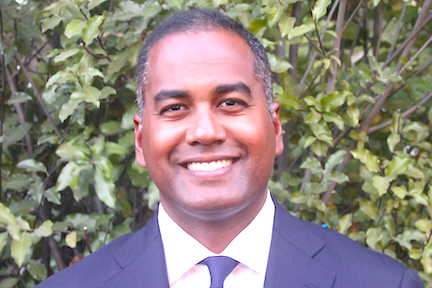 By the Daily Post staff
The Silicon Valley Leadership Group has hired an investment banker, Menlo Park resident Ahmad Thomas, as its new CEO to replace Carl Guardino.
The Silicon Valley Leadership Group is a chamber-of-commerce like outfit that campaigns for sales tax increases for transportation projects like BART-to-San Jose.
Thomas worked for a decade as an investment banker at Barclays where he specialized in structuring and financing public infrastructure.
He also served as a senior aide to U.S. Sen. Dianne Feinstein in Washington, D.C. It was in that capacity where he first worked with the Leadership Group on a variety of economic and tax issues.
Thomas holds a bachelor's degree from Cornell University, Master's degree from the London School of Economics, and M.B.A. from the Wharton School of the University of Pennsylvania.
Guardino made $824,567 a year in 2017, according to the latest IRS filing. It wasn't known how much the organization would pay Thomas.
Thomas lives in Menlo Park with his wife, Dr. Reena Thomas, and two sons. Dr. Thomas is a practicing neurologist at Stanford Hospital; in addition to serving on the medical faculty she leads diversity pipeline efforts in medical education at the Stanford University School of Medicine.