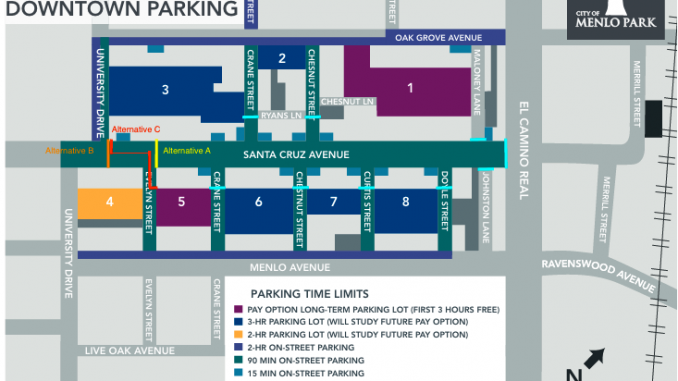 BY EMILY MIBACH
Daily Post Staff Writer
Menlo Park City Council has changed its plan for the closure of Santa Cruz Avenue after merchants complained it had reduced sales and others said the traffic pattern was confusing.
The council had originally voted to close three blocks of the downtown stretch late last month in order to let restaurants and cafes place seating in the streets.
But after the closures went into effect, retailers complained that fewer people were driving past their shops, which meant even less sales.
"Closing Santa Cruz Avenue has been devastating to us and to all of our neighbors, including the restaurants. Our foot traffic is roughly half of normal for June/July. While closing the street may offer another park for youths to ride their bikes, denying access to downtown businesses is an unsurmountable obstacle to business owners," Harvest Furniture owner Karsten Iwers wrote in an email to council.
Alex Beltramo wrote that stores are losing customers who cannot figure out where to park in order to get to their destination.
"Please reopen Santa Cruz Avenue. It was worth a try, but the results are in and the trendline is in the wrong direction," Beltramo wrote.
As a result of the complaints, council members Betsy Nash and Ray Mueller, who initiated the idea to close Santa Cruz Avenue, worked with the city's Chamber of Commerce to change the configuration along the street.
On Thursday, the council was presented with the options of reopening Santa Cruz completely, keeping some of the street dining, and keeping the street between Crane and Evelyn streets closed.
The council decided to go with the chamber's idea, which closes:
• The northbound lane of traffic from Crane Street to Chestnut Street,
• The southbound land of traffic from Doyle Street to Curtis Street, and
• Keeps the complete closure between Evelyn Street and Crane Street.