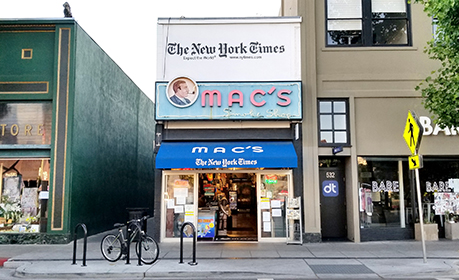 BY SARA TABIN
Daily Post Staff Writer
The tobacco ordinance that could kill Mac's Smoke Shop isn't a done deal.
Last night, three City Council members who voted against the ordinance on May 18 asked to postpone the second and final reading of the ordinance until next Tuesday.
The ordinance bans flavored tobacco and vaping products such as Juul. The ban will likely mean the end of Mac's Smoke Shop, which has been at 534 Emerson St. since 1934.
The ban was supposed to get its second reading last night. It was on the council's consent calendar, where many items are passed at once without a discussion. Instead Councilman Tom DuBois, Mayor Adrian Fine and Councilwoman Liz Kniss said they want to discuss the ordinance further. The three voted against the original ban.
Since council had too much to do tonight, City Manager Ed Shikada said the tobacco ban will come back next week.
The three didn't say why they were pulling the ordinance off the consent calendar. But if they're able to get one more vote on the seven member council, they'll be able to defeat the ordinance.
On May 18, the council members who voted for the ban were Alison Cormack, Eric Filseth, Lydia Kou and Greg Tanaka.
When Los Altos passed a similar ban in February, it only banned the sale of vaping devices, not all flavored tobacco, to protect a traditional tobacco shop, Edwards Pipe and Tobacco at El Camino Real and San Antonio Road, which has sold flavored pipe tobacco for decades.
Neil Khoury, who owns Mac's with his wife Lori Khoury, told the Post that the shop has survived World War II, the Korean War, the Vietnam War and the 2008 recession, but this will likely be the end. The couple said they purchased the store to continue its legacy.
Lori Khoury said the shop could survive not selling vapes, but it needs to sell flavored pipe tobacco.