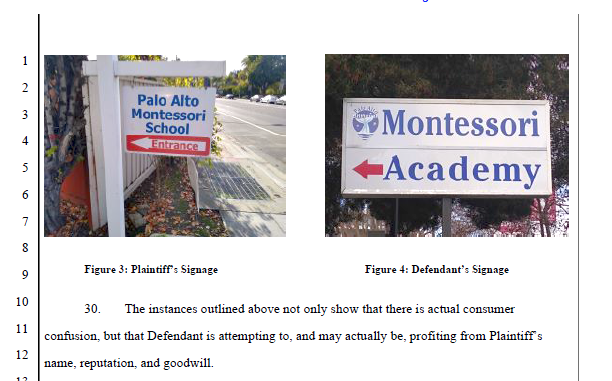 BY SARA TABIN
Daily Post Staff Writer
Palo Alto Montessori School is taking Palo Alto Bilingual Montessori Academy to court for trademark infringement because of similar names.
Palo Alto Montessori School, a nonprofit at 575 Arastradero Road, alleges that Palo Alto Bilingual Montessori Academy, at 4232 El Camino Real, is using a similar name and similar signs to capitalize off the plaintiff's reputation and steal their business.
The Palo Alto Montessori School says it opened in 1977. Parents are so eager to send their kids to the school that 20% of their applicants come from out of state with the goal of relocating to Palo Alto, according to the lawsuit.
Palo Alto Montessori School claims in the lawsuit that the rival Palo Alto Bilingual Montessori Academy opened in 2010 and has been using similar-sounding names including "Stanford Preschool Bilingual Montessori" and "Palo Alto Montessori Academy."
Confusion alleged
"Parents of students and prospective students frequently make the mistake that plaintiff's school is defendant's school, and vice versa," reads the suit by the plaintiff Palo Alto Montessori School. "These parents and prospective students have scheduled a tour or meeting at plaintiff's school but have mistakenly gone to defendant's school instead."
The similar-sounding names have also confused job applicants, the lawsuit claims.
Included in the lawsuit are photos of the two schools' signs. Both are white with blue lettering.
The Post was not able to reach the defendants, Palo Alto Bilingual Montessori Academy, for comment on Monday. No one picked up the phone and two emails to the school's information email went unanswered.
Palo Alto's city registry for licensed childcare facilities lists Virginia Pulda, the academy director, as the leader of the defendant Academy.
California's business filings list the Academy under the limited liability corporation "Stanford Education Foundation."
The Post asked Stanford whether the preschool is affiliated with the university.
Stanford spokesman EJ Miranda said he could not find any official connection between Stanford and Palo Alto Bilingual Montessori Academy.
Montessori schools are supposed to adhere to the education philosophy of Italian physician Maria Montessori. However, the name Montessori is not trademarked, meaning there are no official standards for what constitutes a Montessori school.