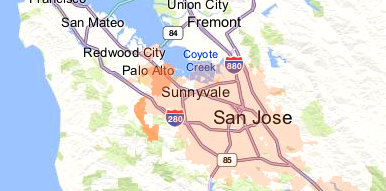 | | | | |
| --- | --- | --- | --- |
| | cases | population | ratio |
| Palo Alto | 57 | 67,178 | 0.0848% |
| Mountain View | 30 | 81,438 | 0.0368% |
| Los Altos | 18 | 30,743 | 0.0585% |
| Los Altos Hills | 0 | 8,500 | 0.0000% |
| Sunnyvale | 65 | 153,656 | 0.0423% |
| Cupertino | 17 | 60,777 | 0.0280% |
| Saratoga | 0 | 30,905 | 0.0000% |
| San Jose | 958 | 1,035,000 | 0.0926% |
| Los Gatos | 21 | 30,724 | 0.0684% |
| Campbell | 26 | 41,544 | 0.0626% |
| Milpitas | 43 | 78,106 | 0.0551% |
| Santa Clara | 54 | 127,134 | 0.0425% |
| Morgan Hill | 0 | 45,037 | 0.0000% |
| Gilroy | 24 | 57,664 | 0.0416% |
BY SARA TABIN
Daily Post Staff Writer
Santa Clara County Health Department officials today started releasing the number of COVID-19 cases by city after refusing to do so because of privacy concerns, and the first batch of numbers show 57 cases in Palo Alto.
Countywide there are 1,442 reported cases, including 285 people in the hospital, and 47 deaths. A lack of testing makes it difficult to know the true number of people who are infected.
Palo Alto has a population of 67,178, meaning 0.0848% of the population is known to have contracted the virus.
The county has reported 30 cases in Mountain View (population 81,438) and 18 cases in Los Altos (population 30,743). The bulk of cases, 958, are from San Jose.
County deaths from COVID-19 are now being broken down by race/ethnicity.
Only 26.9% of people in the county are Hispanic according to census data but 36% of the 47 people who have died from COVID-19 are Hispanic. Black people make up 2.6% of people in the county and about 4%, or two, of the deaths.
Black and Hispanic people have made up a disproportionate number of deaths in New York City. Unequal access to health care is one possible reason for this trend.
There is an almost even split between men and women with COVID-19 but men account for 70% of the deaths. Men have made up a majority of the deaths in other countries like China, Spain and Italy. Some scientists speculated that men are more vulnerable because they are more likely to smoke than women. Other researchers think female hormones might have protective effects against coronaviruses.