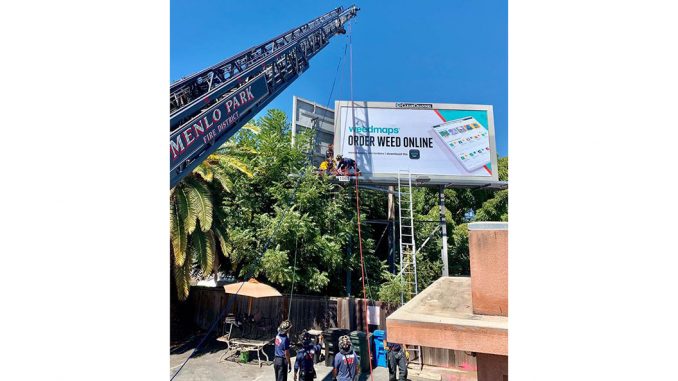 This story originally appeared in Saturday's print edition of the Daily Post. To get all the local news, including many stories you can't find online, pick up the Post every morning at 1,000 Mid-Peninsula locations.
BY EMILY MIBACH
Daily Post Staff Writer
An East Palo Alto man who was rescued after climbing onto a cannabis billboard earlier this month was tasered by Menlo Park police this week after hurling Facebook bicycles into the road and threatening an officer with a spear-like rod, police said Friday (Sept. 20).
A post on the Facebook page East Palo Alto Neighbors claimed that a man was shot on Wednesday, but police said that was not the case.
Police were called to Rainer's service station at 1905 E. Bayshore Road at 12:47 p.m. on Wednesday (Sept. 18) after a report of a man throwing bikes into the road, Commander Jeff Liu said.
Another caller said that the man was walking in and out of traffic, according to Liu.
East Palo Alto police are "very familiar" with the man after he climbed onto a billboard in the same area on Sept. 3 and from other contacts with him, Liu said.
"He can be very dangerous when he is in a state of psychiatric crisis because despite his fragile mental state and possible substance abuse problem, he is in excellent physical shape and has the body and strength of a professional athlete," Liu said.
Threatens to jump into creek
At 12:51 p.m., an officer began speaking with the man to try to calm him down.
However, the man walked away toward the creek and climbed onto a concrete ledge, threatening to jump into the creek. The officer talked the man into getting down from the ledge, Liu said. Then the man walked to the 200 block of Verbena Drive and sat down in the middle of the road for a couple of minutes while officers were trying to talk to him, Liu said.
The man then began to shadowbox and continued onto the 200 block of Azalia Drive. His "aggressive behavior" prompted officers to call Menlo Park police so they could close the streets to prevent the man from being hit by a car.
They also wanted to call Menlo Park officers because they have tasers, giving them something other than guns to use if the man became violent, as he has done in the past, according to Liu.
East Palo Alto police do not have tasers because the council turned down the department's request last August.
Holds spear to his neck
Officers tried to call the man's doctor in hopes the doctor could get the man to calm down, but he broke off a spear-like decorative piece from an iron gate and began to hold it like a weapon, Liu said.
The man then alternated between holding the spear to his own neck and holding it like a weapon, all while walking toward officers, Liu said.
Officers retreated, but the man eventually ended up closing the distance between himself and one Menlo Park officer, who then used his taser.
The man fell to the ground and was restrained, Liu said.
An ambulance was already standing by on scene, so the man was placed into the ambulance and taken to the hospital for a psychiatric evaluation.