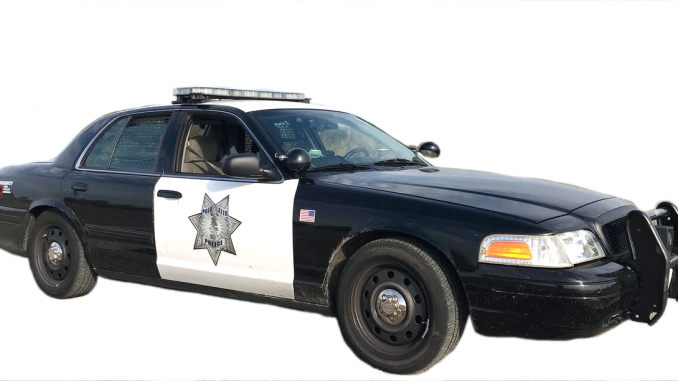 BY ALLISON LEVITSKY
Daily Post Staff Writer
A man who was once arrested for allegedly rappelling into the now-defunct JJ&F Market has sued the Palo Alto police, claiming that five officers kicked down his door at the Buena Vista Mobile Home Park, beat him to the point where he lost a tooth and mocked him for being gay.
Gustavo Alvarez, 38, filed the suit in federal court on Monday and is represented by two San Jose lawyers, Cody Salfen of the Salfen Law Firm and Samuel Gordon of the Gordon Law Group.
Police spokeswoman Janine De la Vega declined to comment on the suit.
Alvarez alleges that on Feb. 17, 2018, Police Officer Christopher Conde approached Alvarez while he was standing in the driveway of his mobile home and told him that he had seen him driving while his license was suspended, a statement that Alvarez disputes.
Alvarez claims that Conde didn't see him driving on the public roadway and that Conde didn't try to check his driver's license status before detaining him.
Conde then allegedly called for backup and was joined by Sgt. Wayne Benitez, Agent Thomas Alan DeStefano Jr. and officers Thomas Hubbard and Johnson — the suit doesn't identify the last officer's first name.
Alvarez alleges that he tried to "peacefully comply," but the five officers held him at gunpoint, yelled at him to "get the f*** out," kicked in his front door and pulled him out of his home.
Plaintiff claims police assaulted him
The officers then allegedly slammed Alvarez onto the front hood and windshield of his 2002 Ford Focus, which was parked in his driveway, and repeatedly threatened and assaulted him as they searched his person, home and car.
Alvarez claims that Benitez, 61, punched him in the back while he was face down on the hood of his car, slapped him on the side of the face and yelled at him to shut up.
Benitez is also accused of going into a "fit of rage" and ripping Alvarez, who at this point was handcuffed, and slamming his face and body onto the hood of his car while asking, "So you think you're a tough guy, huh?"
This allegedly knocked Alvarez's tooth loose, which he said he later pulled out in jail because he was afraid to ask for medical care. When he complained that he was bleeding, Benitez allegedly yelled, "You're gonna be bleeding a whole lot more."
Alvarez claims that Benitez then turned to the subordinate officers and used the encounter as a "teaching moment."
"See how quickly they behave once we put our foot down? And that's what we don't do enough of," Benitez allegedly said. "Amazing how well-behaved they become."
The suit doesn't elaborate as to which of the officers mocked Alvarez for being gay, but states that officers mocked and humiliated him because of his sexual orientation while he was in their custody.
According to police logs from last year, Alvarez was booked into Santa Clara County Jail that night on suspicion of DUI, driving while his license was suspended or revoked for DUI, resisting arrest and possessing both drug paraphernalia and lost property.
Charges dismissed
The suit states that all of the charges were dismissed after a judge granted Alvarez's motion to suppress, challenging the police justification of his detention.
According to the suit, Conde didn't have legal justification to detain Alvarez for allegedly driving with a suspended license.
Conde had seen Alvarez's two-door Ford near the mobile home park around 10:23 p.m. that night. But, Alvarez argues, he couldn't see who was driving the car — he only knew the car was associated with Alvarez from prior run-ins and saw him get out of the car outside his home.
After Conde detained Alvarez, he learned that there had been at least one other person in the Ford with him, the suit says. Conde also admitted under oath that he didn't know whether Alvarez's license was suspended when he detained him, according to Alvarez.
Conde used the laptop in his patrol car to check the Focus' registration status. But Conde didn't check Alvarez's license status before confronting him at his home, the suit states.
Conde said that he had reasonable suspicion to believe that Alvarez's license was suspended because he knew that it had been suspended in the past.
Police logs show that three weeks earlier, Alvarez was cited on suspicion of driving with a suspended license on Vista Avenue at El Camino Real.
Incident was recorded
Alvarez says that the interaction with police was recorded on his home surveillance camera, which he installed because he had been harassed by police before. The officers were wearing microphones, but the department didn't outfit officers with body cameras until several months later.
Police and court records show that Alvarez is no stranger to law enforcement, with frequent arrests and write-ups on drug charges, vehicle violations and burglary.
Seven felony complaints and 11 misdemeanor complaints have been filed against him in Santa Clara County Superior Court in the last 20 years.
JJ&F skylight arrest
In July 2012, Alvarez was arrested for allegedly breaking the skylight at JJ&F at 520 College Ave. and rappelling into the store using a black satellite dish cable as a rope.
In April 2013, Alvarez was arrested on suspicion of possessing drug paraphernalia, driving on a suspended license and on a warrant.
In May 2018, he was arrested at home on suspicion of drug intoxication and possessing drug paraphernalia and drugs for sale.
Alvarez was arrested on warrants from outside police agencies in September 2017, December 2017 and March 2019.