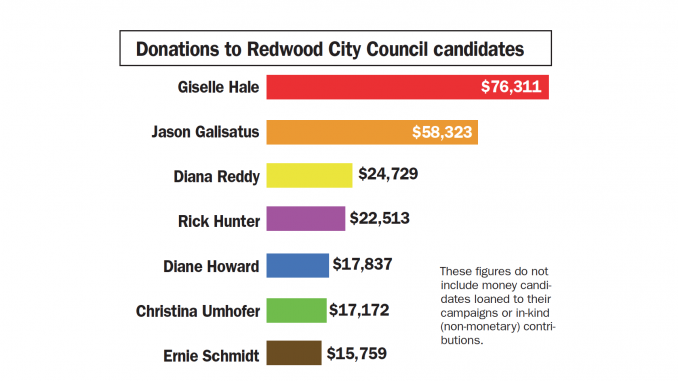 BY EMILY MIBACH
Daily Post Staff Writer
Two candidates for the Redwood City Council have raised far more than the other five in the race, largely due to donations from the real estate industry.
Planning Commissioner Giselle Hale has raised $72,311 in cash while Complete Streets Commissioner Jason Galisatus has raised $58,323.
Some posters in the popular Facebook group "Redwood City Residents Say: What?" have raised the question of whether Galisatus is being "bought" due to these donations, such as $3,000 from executives at the commercial real estate service firm Newmark Knight Frank and $5,000 from the California Real Estate PAC.
Redwood City resident Alberto Villacorta began a website called "Vote for RWC," where he breaks down who has been donating to the seven candidates, and whether the contributors are local or not.
Based on Villacorta's analysis of Galisatus' Sept. 27 finance forms, 79% of his funds are not from Redwood City residents.
Galisatus has also brought in a lot of contributions from local politicians, such as Assemblyman Marc Berman ($250), Redwood City Councilwoman Shelly Masur ($200), Belmont Councilwoman Davina Hurt ($100), Menlo Park Councilwoman Kirsten Keith ($100), Belmont Mayor Doug Kim ($100), County Controller Juan Raigoza ($150), Sequoia High School District trustee Georgia Jack ($250) and Belmont Councilman Charles Stone ($250).
Galisatus says that the hefty donations are a result of people believing in his "vision and values."
"The only thing I owe my donors is what I owe my community, which is to stay true to myself and my values," said Galisatus, who grew up in Redwood City and works as a Community Relations Associate at Stanford.
Giselle Hale, who is the director of product marketing and media partnerships at Facebook, has received about half of her total from Redwood City residents, according to Villacorta's breakdown.
Hale has received large contributions from the San Mateo County Association of Realtors ($5,000), and $2,000 from Realtor Chris Giotinis.
Hale has also received a fair amount of her funds from her fellow Facebook employees and from local politicians, according to her financial forms.
All of the other candidates in the race for three Redwood City council seats have raised under $25,000, before any loans to themselves or in-kind contributions are included.
Diana Reddy has raised $24,729, Rick Hunter $22,513, Diane Howard $17,837, Christina Umhofer $17,172 and Ernie Schmidt $15,759.