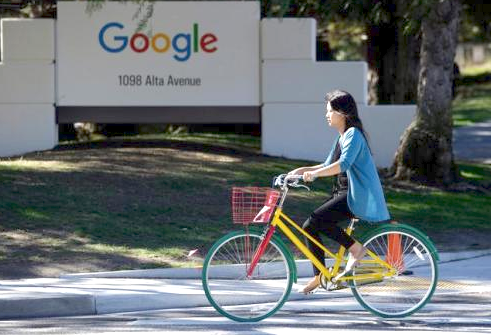 BY ALLISON LEVITSKY
Daily Post Staff Writer
Mountain View voters will decide in November whether to charge the city's large businesses a vastly increased per-employee business tax, which could hit Google with a $3.3 million annual fee, City Council decided last night (June 26).
Businesses with more than 5,000 employees like Google, the city's largest employer with 23,324 employees, would pay $150 per employee under the model that council voted unanimously to approve last night.
The tax is expected to raise about $6 million per year. As a general tax that only needs a majority vote, it could be used for anything, but the council has decided to pass a resolution that promises to use 80% of the funds, or $4.8 million, for transportation projects.
$600,000 for housing
Those projects include funding the city's community shuttle, which Google has been supporting for years, and improving bike- and pedestrian-friendly routes.
Another 10%, or $600,000 per year, will be used for affordable housing. The last 10% can be used for other purposes.
Smaller businesses would pay substantially less. Businesses with 50 or fewer employees would pay a base rate of $75, plus $5 or $10 per employee.
The per-employee tax would rise gradually for different-sized businesses, with businesses of more than 1,000 employees hit with a $125 per-employee tax. Businesses with between 50 and 500 would pay $75 per employee and those with between 500 and 1,000 would pay $100 per employee.
One man speaking in public comment claimed that Google got a $2.28 billion tax cut from the Trump administration.
"Google can afford to pay," he said. "I believe City Council started out with the goal of raising $10 million from this tax… I don't understand why you've talked yourself down so much."
Mayor Lenny Siegel shot back that the $10 million figure was a "target" for discussion purposes.
Chamber's plan would have hit small business harder

Council rejected a different business tax model that the city's Chamber of Commerce didn't send to the council until yesterday afternoon.
That model would have saved Google about $1 million per year, but hit small businesses harder, which appeared to puzzle some council members.
Bruce Humphrey, the chamber's president and head of government affairs, said the chamber's model honored the parameters given by the chamber's board of directors — no more than $50 for one employee and no more than twice that amount for the highest per-employee tax.
The chamber's model also didn't rely on one business to pay 60% of the tax, Humphrey said.
Councilwoman Pat Showalter pointed out that the city hadn't raised its $30 flat business license fee since 1954.
"That's kind of irresponsible. As a government agency, we have a responsibility to keep our ordinances modern," Showalter said over the speakerphone from Arkansas, where she participated in the meeting remotely.
Councilman Ken Rosenberg said that while the tax increase had been referred to as a "Google tax," it's really an update to the business license across the board. He added that the city gets a pittance in sales tax from Google, whose workers put stress on the city's roads, water supply and sewer systems.
"Our business license fees are $30, and that's weird. It's weird because it hasn't changed in decades," Rosenberg said. "We're asking for $75. It seems like a bargain, quite frankly."
Rosenberg touted the city's AAA credit rating, which he claimed was earned by spending money wisely. He said it "makes sense" that the chamber would want to create a model that would be "a little more friendly to the larger companies," but said the chamber exists because of the smaller businesses.
Other cities
Councilman Chris Clark said he looked into what other Bay Area cities charge in base-rate business taxes, which range from $40 in Sunnyvale to $101 in Milpitas. Palo Alto charges $54 while Cupertino charges $72.
Last week, Cupertino's City Council put on hold a similar per-employee tax that would have reaped much more than 60% of its revenue from Apple because that company dwarfs other businesses in town.
Cupertino Mayor Darcy Paul addressed Mountain View City Council last night about the tax, noting that he sees both housing and transportation infrastructure needs in the South Bay as "dire."
"Whatever we can do to focus the transit dollars on trying to fix solutions for the South Bay region, I'm all for it," Paul said.