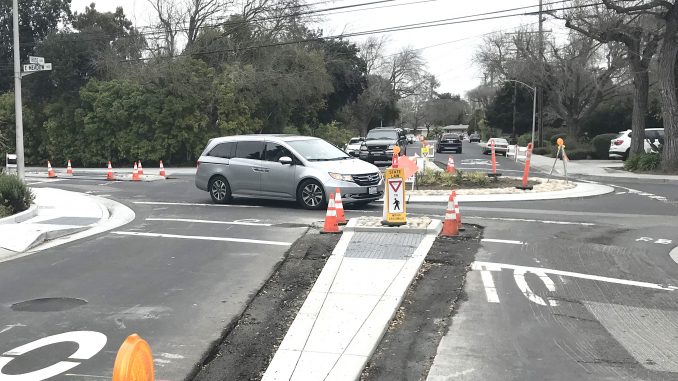 BY EMILY MIBACH
Daily Post Staff Writer
Harsh criticism of the Palo Alto City Council and some city employees was handed down last night (June 12) by about half of the 50 or so residents who spoke out about the Ross Road and East Meadow Drive roundabout and bicycle boulevard plan. Others praised the changes, saying it improved the area.
The roundabout along with curb extensions and speed bumps were installed as part of an $8.7 million bicycle boulevard plan that calls for 10 more roundabouts throughout town.
Instead of creating bike lanes on the side of the street, the city's plan is to slow car traffic with bumps and curb extensions and have bicyclists share the same lane with cars.
"This is the epitome of incompetence," said resident Terry Martin. "This project is an incredible waste of money … and there is a design flaw that will kill someone." Martin, who is an engineer, said it's possible for a young cyclist to not see one of the curb bulb-outs, hit it at a fast speed and go flying off of their bicycle. Martin said that sort of accident can lead to a fatal neck or head injury.
"I've voted in every election since 1969, (but) I've never voted for council, because I wasn't paying attention. That will change," Martin said.
Other residents also said they were worried the bulb-outs, the bumps and the idea that having cars share lanes with bikes would result in injuries.
Some parents, such as Lily Lam and Jennifer Liu, said their children no longer feel safe riding their bikes on Ross anymore. Both parents said they wanted to like the changes to the road, but because their children don't feel safe, they don't support the changes.
Former Mayor Betsey Bechtel, who was on council in the 1980s when the Bryant Street bicycle boulevard was approved, also criticized the plan. Bechtel said the plans for the bicycle boulevards were difficult to comprehend. She also called the city's former bicycle consultant, John Ciccarelli, who said the only changes the city needed to make were adding speed bumps. The curb extensions weren't necessary.
Not everyone was critical
However, some residents were pleased with the changes to Ross Road.
Ross Road resident Tania Nanevicz, who lives across from the YMCA, says she was initially skeptical when she saw all of the work begin on the street, but says the changes have helped.
"I used to hear horns honking five to 15 times a week," she said. "But now I hear a honk maybe once a month."
Nanevicz says she now feels safe backing out of her driveway without the fear of being hit by a car flying down the street.
Dory Moss, who bikes with her children to school, said she was initially wary of having to ride in the regular lane of traffic, however she was delighted to discover that the majority of drivers on Ross treat bicyclists with respect and it increases the visibility of her and her children on the road.
City's response
City Manager Jim Keene said after the over two-hour public comment that he, Assistant City Manager Ed Shikada, Deputy City Manager Rob de Geus and Chief Transportation Official Josh Mello will meet today and discuss the questions and comments from last night's meeting.
Keene said before the city council goes on summer break in two weeks there will be a webpage put on the city's website to answer all of the questions raised by residents. Council members told Keene that he and the other officials need to explain why they think their plan is the best idea.
Mayor Liz Kniss told the crowd that last night's meeting won't be the last time council discusses the bike boulevards plan. She said there will be more discussions and tweaking of plans before the work is completed.
"Bryant was a disaster form the very beginning," Kniss said, recalling the 1980s project. "That took months to straighten out … and it took a year until it was accepted."