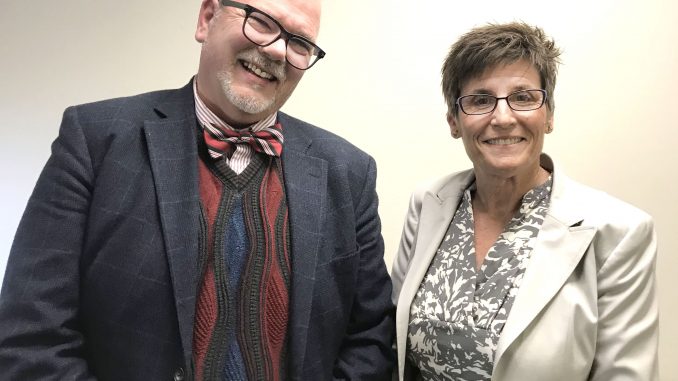 BY EMILY MIBACH
Daily Post Staff Writer
For the first time in about a decade, San Mateo County residents can vote on who will be the county's school superintendent, to replace Anne Campbell, who is retiring. Gary Waddell and Nancy Magee, who are both employees in the county Board of Education office, are vying for the job of superintendent. But what does a county schools superintendent do?
The county superintendent and board of education, which the superintendent reports to, acts as a liaison between the state and the 23 school districts in the county regarding funding and other needs, it also makes sure school districts don't go bankrupt.
It also serves as an appeals board for charter schools, disciplinary actions, provides instruction for students with severe disabilities and those who are wards of the juvenile court system.
Both candidates said they wish to decrease the achievement gap — but during each's tenure at the county superintendent's office, one has seen marked success while the other has not.
Achievement gap
Waddell, who is deputy superintendent of instruction, said attempting to close the county's achievement gap is his career's work, but it has been slow going, with no significant change over the past 10 years.
A decade ago, Waddell started "Zap the Gap," an annual event where educators from around the county can get together and discuss how to close the achievement gap. When asked if Waddell has seen a difference in the numbers over the past 10 years, he said there has not been a significant difference.
Meanwhile, Magee, who is the associate superintendent of student services, has been a core organizer of the Big Lift program in the county, which has the goal to increase the amount of third-graders reading at grade level.
One of the aspects of the Big Lift is to decrease chronic absenteeism among students. Magee partnered up with Harvard to do a study of 14 San Mateo County School Districts to attempt to decrease habitual absences. Magee's team sent out postcards to the families of habitually absent children and worked with schools to work with families of the repeat offenders to decrease absenteeism by 15% in the 14 districts.
Ravenswood
Either Magee or Waddell will be taking over the reins of the county education office at the same time the Ravenswood City School District in East Palo Alto will be closing its preschool program. The county found a new operator for the program, the Institute for Human and Social Development, which takes over in August. Campbell has said her office will assist parents in finding temporary preschool or day care while the typically year-round preschool is closed from June to August. Both Magee and Waddell said they will come to East Palo Alto to meet with concerned families and be engaged in helping families out.
Waddell, 54, received his doctorate in school leadership, a master's in school counseling and an educational specialist degree in school administration, all from Western Carolina University. He got his Bachelor of Arts in Drama from the University of North Carolina at Asheville. Waddell, who is gay, lives in Pacifica and used to be a foster parent for teens with emotional and behavioral disabilities. He is also a board member for a community theater.
Magee, 58, has worked for the county for seven years. Before that, she was an emergency management director for a school district in San Diego and a high school English teacher for 20 years.
Magee received her teaching credential and bachelor's in English from San Diego State and got her master's in library and information sciences from San Jose State. She lives in Half Moon Bay. Magee is gay and has two adult sons.