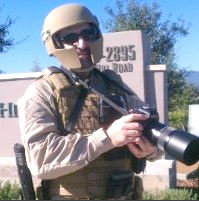 By the Daily Post staff
A man who was denied a permit by Menlo Park to protest outside the offices of a Silicon Valley tech executive on Sand Hill Road while holding an unloaded AK-47 has taken his complaint to federal court.
Michael Zeleny of Los Angeles filed a lawsuit Dec. 28 against the city, Interim Police Chief Dave Bertini, Gov. Jerry Brown and California Attorney General Xavier Becerra.
Zeleny contends his Second Amendment right to bear arms and his First Amendment right to public speech were violated by Menlo Park.
Zeleny has an ongoing dispute against Min Zhu, the founder of Cisco WebEx and a former Chinese banking official. He was previously deputy managing director of the International Monetary Fund.
Zeleny applied to the city last year for a special event permit to demonstrate outside of a venture capital firm Zhu was formerly associated with, New Enterprise Associates at 2855 Sand Hill Road, next to the Rosewood Hotel.
But the city denied the permit because it involved the display of a gun.
At the time, Bertini and the city's special counsel, Greg Rubens, told Zeleny that he's free to demonstrate without a permit on a public sidewalk without guns.
Zeleny appealed to City Council, which sided with Bertini and Rubens on Aug. 29, 2017.
Councilman Peter Ohtaki said at that August hearing he was concerned that the guns would be distracting to drivers just coming off of Interstate 280 and could cause an accident.
"You never know these days when someone is standing outside with a gun what they are going to do," said Councilwoman Catherine Carlton.
In his lawsuit, Zeleny points out that he was acquitted in 2014 of violating the state's concealed carry law after he was arrested two years earlier in Menlo Park for a gun-waving protest outside New Enterprise Associates's offices on Sand Hill Road.
He claims he was arrested because "NEA called in political favors."
"Despite having failed in the earlier prosecution, the city continues to threaten further prosecution if Zeleny resumes his protests," the lawsuit states.
Zeleny's suit contends that his protests are an entertainment "event" that he's filming, and therefore he is eligible for an exemption in the concealed carry law that's used by the movie industry for performers using guns on camera.
"The city asserts that Zeleny is required to have a permit from the city for his events in order to qualify for state law exemptions to the firearm carry ban," the lawsuit states. "Yet, the city refuses to grant Zeleny a permit for his entertainment events, even though he is willing to comply with lawful time, place, and manner restrictions. Indeed, the city refuses even to advise Zeleny what the requirements are for seeking a permit.
"Instead, the city has made clear that it will not grant Zeleny a permit because it considers his message offensive, and that if he continues his protests, the city will prosecute him for violating California's obscenity laws and its open and/or concealed carry statutes," the lawsuit said.
Zeleny is asking the federal court to declare unconstitutional the California laws Menlo Park cited to stop his gun-waving protest.
The lawsuit describes Zeleny as "an internationally renowned researcher of the history and technology of firearms." The suit said Zeleny holds a California Certificate of Eligibility, which indicates he has passed Department of Justice background checks and is eligible to possess firearms.
Zeleny details his grievance with Zhu in the lawsuit and said that a 2010 attempt by Zhu's company, New Enterprise Associates, to obtain a temporary restraining order against him was rejected by the San Mateo County Superior Court.
His lawsuit states, "Zeleny's protests are part of a rich history of peaceful, but armed protests, many drawing inspiration from the Black Panthers. Protests of this nature are common across the country in states that have not completely banned the open carry of unloaded firearms."