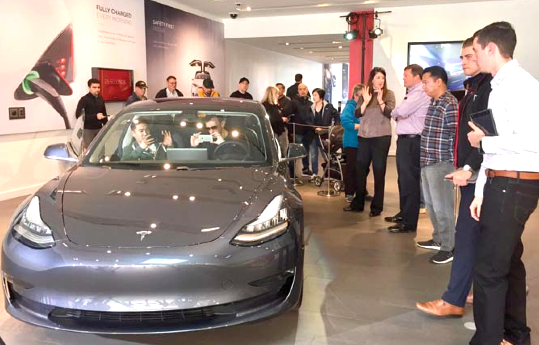 BY ALLISON LEVITSKY
Daily Post Staff Writer
First-time Tesla buyers and curious onlookers got to scope out the new Model 3 sedan yesterday (Jan. 12) at Stanford Shopping Center in Palo Alto, one of only two showrooms in the world displaying the long-awaited electric car.
For many, the new sedan from Elon Musk's electric car company is Tesla's first affordable product.
It expands the Palo Alto-based firm's market from Silicon Valley and Hollywood elites. With models S and X starting north of $74,500 and the Road ster at $200,000, the $35,000 Model 3 seems like a steal. The Century City store in Los Angeles was also showing the car yesterday (Jan. 12).
A private party was also held on Thursday night for Tesla customers to check out the cars.
Vu Hang, a web developer at Symantec, said he put a $1,000 deposit down as soon as the car was announced in March 2016.
Hang said he would probably buy the base model, which runs for $35,000, and said he was interested in the car for "the looks, the performance and just moving away from fossil fuel."
When asked if he was concerned about the range, he said 220 miles was "more than enough for my us- age."
Travis Huang, a civil engineer who stood in line for two hours at the Tesla plant in Fremont in 2016 to put his name down for a Model 3, said another selling point for him was a $7,500 tax rebate promised to the first 250,000 buyers.
Tesla started delivering the first Model 3s in July and delivered almost 2,000 last year. Huang said he didn't know when Tesla would deliver his car, but was hoping that having reserved one in person would help his odds.
The car takes 12 to 18 months to deliver, according to Tesla's website.
Navid Namini, a 21-year-old University of the Pacific student, went to the Palo Alto showroom yester- day just to admire the car.
"My family's a Mercedes family, so I'm trying to show them, you don't have to pay for gas anymore. You can just buy this and plug it in," Namini said. "Tesla really is showing us how important it is to be proactive for our environment."