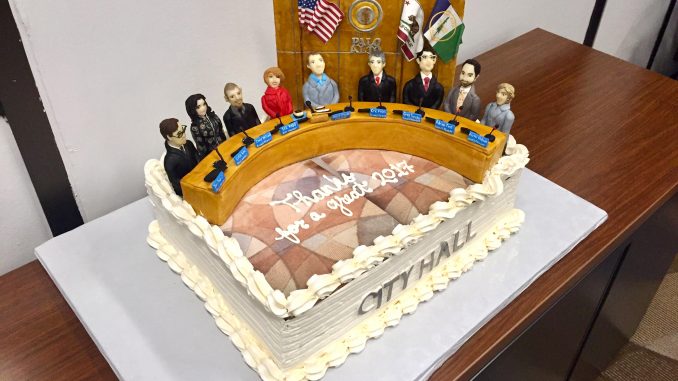 BY ALLISON LEVITSKY
Daily Post Staff Writer
Palo Alto's mayoral and vice mayoral election — normally a straightforward coronation ceremony — was accented with controversy last night after Councilman Tom DuBois raised concerns about the active state investigation into Mayor Liz Kniss' alleged nondisclosure of campaign donations during the 2016 election.
Despite DuBois' comments, Kniss was elected unanimously, as was Vice Mayor Eric Filseth. Kniss, who served as vice mayor under Mayor Greg Scharff last year, will be serving her third term as ma
yor, after other stints in 1994 and 2000. She said last night that she's never lost an election, quipping that she would "not be running for anything again."
Kniss has also served on the Santa Clara County Board of Supervisors and chairs the board of the Bay Area Air Quality Management District. Council members and other local leaders raved about her integrity, skill as a leader and well-connectedness.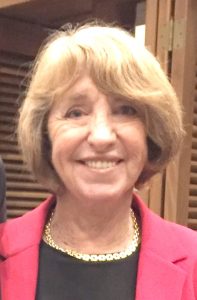 "Liz actually has more experience than, I think, all of us combined," Scharff said. "We're lucky to have her skills, we're lucky to have her experience. She's extremely well thought of regionally."
Kniss set out her top three priorities for the year as housing, traffic and continuing the city's efforts in the Healthy Cities, Healthy Community Initiative. She suggested that a dedicated Housing Committee could be in the works to tackle the city's housing shortage.
DuBois and Filseth have both tended to vote with the slow-growth residentialist faction on council, while Kniss and Scharff have both been more favorable to development proposals.
As mayor and vice mayor, Kniss and Filseth could bring the two sides closer together and bring about some measure of compromise this year as the city plans to tackle such challenges as the housing crisis and making a few billion-dollar decisions on how to separate the Caltrain tracks from the city streets they intersect before Caltrain completes electrification.
Complaint pending
The anonymous complaint was filed with the Fair Political Practices Commission, or FPPC, in March and alleged that Kniss failed to report a $2,500 contribution from the California Association of Realtors received before the Nov. 8, 2016 election.
Kniss reported the donation on Nov. 18, 2016, a full month after the donation was made, according to the association's summary of expenditures that it filed with the state.
On 18 other donations of $100 or more between Oct. 23, 2016 and Dec. 31, 2016, totaling $9,391 or almost half the total contributions received during that period, Kniss allegedly failed to list the occupation or employer of the donor, even for well-known developers like Charles "Chop" Keenan.
"On completion of the investigation, if violations were found, we as a body should reconsider tonight's vote," DuBois said. "In the absence of a ruling, I am willing to give Liz the benefit of the doubt. I will support her for mayor tonight."
DuBois noted that in the three years he had worked with Kniss, the two had butted heads over his support of rent control, but agreed on many other issues and worked well together, particularly on the Policy and Services Committee.
"While supporters of a candidate often suggest that fair practices complaints arise from mere sour grapes, these rules are fundamental to ensuring a fair process for all," DuBois said.
Others on council were reported to FPPC
Kniss pointed out that four sitting council members, including Greg Tanaka, Adrian Fine and Karen Holman, had been reported to the FPPC. Fine and Holman were cleared, while Tanaka settled for $733 on Sept. 21.
At a reception at City Hall following the election, former Mayor Pat Burt told the Post that he thought pairing pro-growth Kniss and slow-growth Filseth would create more potential for bridging the divide over development, which has caused major rifts in the recent past. As for the FPPC investigation, the seriousness of the alleged violation remains to be seen, he said.
"The degree to which big money has come into our local political races is pretty regretful," Burt said. "I think we need to figure out a way to pull back from both the big money and the hyper-partisanship and factionalism that we've had."