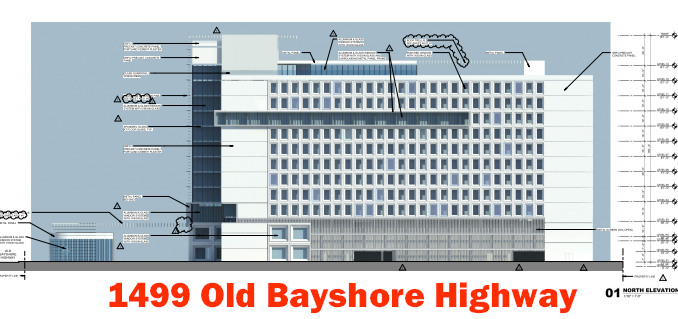 BY EMILY MIBACH
Daily Post Staff Writer
A 12-story hotel with 426 rooms is proposed for Burlingame's Bayfront, which if approved would be the second tallest hotel in the city.
The Burlingame Planning Commission will review the 152-foot-tall project, proposed by Newport Beach-based EKN Development Group.
The only hotel in Burlingame that's taller is the Hilton Hotel at 600 Airport Blvd., which is 15 stories an
d 160 feet tall, according to a report on hotels in the area.
The new hotel would be at 1499 Old Bayshore Highway, between Mills Creek and Mahler Road, not far from the Elephant Bar, according to a report from Sheldon Ah Sing, a consultant planner working for the city.
The proposed project exceeds the city's current hotel guidelines, in which 65 rooms are allowed per acre. That would mean the hotel could only have 142 rooms, according to Ah Sing's report. The site is 2.2 acres. Andrew Davies of EKN is asking for the city allow the larger hotel anyway.
The hotel would have a three-level garage with 360 parking spaces, a cafe and bar, conference space, a pool and a rooftop bar and lounge, according to Ah Sing's report. A 2,900-square-foot restaurant would also be built next to the hotel.
The hotel would also add to the city's income. Burlingame's hotel tax is 12% meaning the city gets 12% of the hotel's revenues before taxes. If the hotel has several partners, which is not unusual, it means that the city will get a bigger cut of the hotel's income than any of the people who risked their own money to buy and build the property.
Critics of such taxes say that cities are likely to waive zoning rules in order to get the additional income. Burlingame gets about $26.2 million from the 12% hotel tax per year. That represents 39% of the city's general fund.
The council in June approved builder fees, which would go toward construction of low-income housing. If the developer pays the full amount of the fees, that would bring in around $3.2 million to the city's housing fund.
The hotel will be reviewed by the Planning Commission at 7 p.m. Monday (Nov. 27) at City Hall, 501 Laurel St.