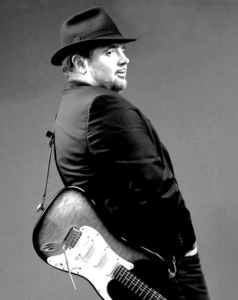 March 11, 1969 – September 18, 2023
Felton, California – Gary Patrick Swope, an extraordinary guitarist, I.T. professional, husband, father and grandfather, died of heart failure on September 18, 2023, at his home in Felton, California, surrounded by his loved ones. He was 54 years old.
Gary was born on March 11, 1969 and grew up in Palo Alto. Throughout his life, he brought joy and inspiration to those who knew him. His musical talent, generosity toward friends, and passion for technology were just part of his outsized personality.
Gary became involved in music at an early age. In elementary school, he studied trumpet, but one day he touched an electric guitar, and his life changed. Gary quit band class and committed to a life of guitar. He went on to play guitar in the Palo Alto High School Jazz Band, and then later in the University of California at Riverside Jazz Ensemble and the San Jose State University Jazz Ensemble.
Gary was a founding member and lead guitarist in "Soul Intention," an 8-piece old-school funk band, and he gigged at over 100 venues throughout California. Gary became fluent in rock, blues, funk, jazz, big band, swing, gospel, bossa nova, baroque and classical.
He wrote and recorded a wide variety of original music and established GPS Productions. His expertise included sound production, audio editing, and composition. He produced dozens of songs used in TV, radio, film, and web ads.
Beyond his musical passion, Gary was an I.T. professional, designing tech manuals and making complicated processes simple through his diagrams and graphics. He worked in high-tech companies across Silicon Valley and held positions in technical writing, quality assurance, technical support, graphic design and web development.
Gary was also an avid sports fan. He loved the San Francisco 49ers and San Francisco Giants—especially when they won.
A devoted and proud family man, Gary leaves behind his mother Judi, his wife of 25 years Christal, son Randy, and grandson Marik. He was preceded in death by his father Norman, in 2014.
Gary Patrick Swope's passing leaves a huge void in the lives of all who knew him, but he will live on forever in the music he created, the love he shared, his generosity to friends and family, and the indomitable spirit he possessed.
A celebration of Gary's life will be held on September 30, 2023 in Palo Alto.
Rest in peace, Gary.