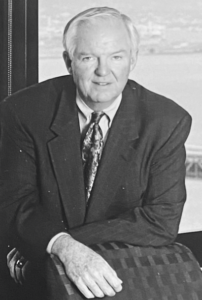 February 17, 1938 – July 16, 2023
Edward Kennedy passed away peacefully at his Menlo Park home on July 16, 2023 at the age of 85. A devoted husband and father, Ed is survived by his wife of 62 years, Eileen Kilday Kennedy, and his children Kathleen Tiso (Frederick), Sheila Lyons and Edward Kennedy IV (Kate). His daughter Sharon Gerlach (Glenn) died on March 23, 2021. In death, Ed leaves 10 grandchildren. He is also survived by his sister, Louann Keenan.
Ed was born in Chicago on Thursday February 17, 1938 to Edward Thomas Kennedy II and Louise Buckley Kennedy. He graduated from Loyola Academy High School and then traveled 90 miles east to the University of Notre Dame, earning his degree in Mechanical Engineering in 1960, while lettering as Manager of the Fighting Irish Football and Fencing teams. After graduation, Ed returned to Chicago to earn his MBA from the University of Chicago. Edward married his wife Eileen on June 17, 1961.
Ed was in the first hiring class for what would become Accenture –now the world's largest consulting firm. He became a partner in 1972 in the Chicago office serving major clients such as Harris Bank, the Chicago Board of Trade and United Airlines. Traveling the world for both work and pleasure, Ed became one of the earliest "million- mile members" with United.
In 1981 Ed transferred to the San Francisco office, trading snow for sunshine. He spent the next 14 years building the Technology, Manufacturing and Commercial Products practices with clients like Sun Microsystems, Apple and Safeway. He then took on the role of SF Office Managing Partner, overseeing 2,000 personnel. Per policy, Ed retired from Andersen Consulting in 2000. He impacted thousands of Bay Area consultants and leaders through his one-of-kind management style and his stewardship of a firm that he loved and devoted nearly 40 years of his life to.
In retirement, Ed and Eileen became daily Mass-goers at Saint Raymond parish, forming new friendships, which were further developed over breakfasts. Ed and Eileen also devoted themselves to the leadership of the Saint Raymond St. Vincent de Paul conference. He and Eileen have impacted the community beyond measure with their service, generosity and friendship for over 20 years. He loved being closely involved with his children and their ten grandchildren, regularly attending their sports games, sacraments, graduations, and providing incredible family vacations. Ed was a devoted SF Giants and Notre Dame football fan until the end—he rarely missed a game. Ed will be remembered as a loving husband, father, grandfather, consultant, leader and a great friend to many. He was beloved and will be missed by all whose lives he touched.
The funeral Mass will be celebrated at St. Raymond Catholic Church in Menlo Park at 10:00 a.m. on Monday, July 24.