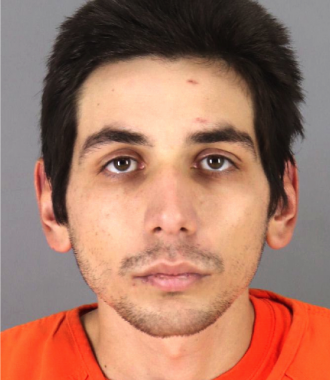 BY EMILY MIBACH
Daily Post Staff Writer
Francis Wolke told police that he murdered former Atherton arborist Kathleen Anderson because he was following instructions to join in the 1% of people who kill and consume "protein" from other humans to achieve eternal youth, a jury was told today (March 6).
Wolke was found guilty on Thursday of the first-degree murder of Kathleen Anderson in her Menlo Park home by stabbing her in the eye with a pen and nearly decapitating her. But the trial continued today as the jury must now determine whether Wolke was insane at the time of the murder.
If the jury finds Wolke sane he will likely be sent to a hospital to receive mental health treatment until he is found sane. If found sane, he will serve a sentence of 26 years to life in prison.
Wolke's lawyer, Connie O'Brien, argued that due to the grotesque nature of Anderson's murder, the only explanation for his behavior is the psychoses Wolke had been experiencing during and before the murder.
Wolke's thoughts about cannibalism were communicated to him through auditory hallucinations, Dr. David Berke testified.
Wolke had experienced these hallucinations well before Anderson's Dec. 12, 2018 murder in her Menlo Park home, Berke said.
Previously, O'Brien said in court that Wolke had said he needed to return to California from Cincinnati, Ohio in early December 2018 in order to join the 1% who consume human flesh.
O'Brien said during her opening remarks today that all four doctors who would be testifying — two for the defense and two for the prosecution — have found that Wolke suffers from psychosis. The doctors are split on whether Wolke was sane at the time of the murder.
Both O'Brien and prosecutor Tricia Povah questioned Berke throughout the morning about Wolke's mental health and whether some of his personality traits, such as the arrogance described by both Dr. Berke and others during the earlier phase of the trial, could have played into how he acted during the crime.
O'Brien asked Berke if perhaps it was Wolke's arrogance that kept him from leaving the home.
"No, it speaks to the severity of his psychosis. To break into a home, steal food, murder (the occupant), and then hang out? To use a nonclinical term, that's crazy," Berke said.
O'Brien also asked Berke if it were possible that Wolke was conducting a hoax in regard to his mental health, tricking the various doctors who have evaluated him over the years. To which Dr. Berke said was "absurd."
Berke said that other members of Wolke's family had been diagnosed with schizophrenia and it is possible to have a predisposition for such a mental illness.
Wolke also said it would be quite the con if Berke managed to convince all of the mental health professionals who have evaluated him and is now using this con to cover up Anderson's murder.
In most criminal trials, it is up to the prosecutor to convince the jury beyond a reasonable doubt that the accused person committed the crime. In this trial, it is up to Wolke's attorney to prove a "preponderance of evidence" that Wolke was insane at the time of the crime. So instead of being 100% sure, the jury must be at least 51% sure that what occurred was because Wolke was insane.
The trial will continue tomorrow (March 7) in San Mateo County Superior Court in Redwood City.