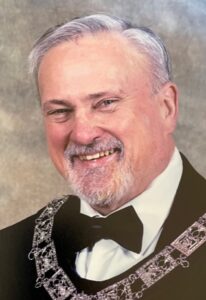 January 6, 1949 – November 4, 2022
Ken passed away at Stanford Hospital, Palo Alto, California, at age 73. Ken was preceded in death by both his parents, Reginald and Edythe Wood, his wife, Sandy Olivas Wood, his brother Robert Newell Wood and his sister Patricia Kay Perkovich. He is survived by four nieces and nephews: Lori Perkovich, Michael Wood, Gregory Wood, and Carey Lesser.
Ken was born in Chicago, Illinois and graduated from Fenger High School. He attended San Jose State University, class of 1970 and graduated with a degree in journalism.
He worked as a court clerk for County of San Mateo, California. Ken was also very active in the Elks Lodge, serving as lodge chaplain, treasurer, and secretary. During his time as secretary, he obtained grants that helped the Defenders lodge at the VA hospital, as well as the Eagle Project supporting our local scout troops. He supported many activities in the lodge, most notably the comedy shows he sponsored and karaoke nights.
Ken was an avid sports fan with an encyclopedic memory for trivia regarding the local teams he supported. He enjoyed attending San Francisco Giants and 49ers, Golden State Warriors and San Jose Sharks games. Ken enjoyed music with some of his favorites being Elvis, the Rolling Stones, and Paul McCartney, He also supported local bands. A life highlight was being the star actor, named Sampson Blaine, in a music video "Bag Of Bones," produced by his friends' band, The Swamp Lights. He supported the arts and attended many productions that included his nephew-by-marriage, Tom Gough and friend, Nicolae Muntean. He'll be missed at the many local places where he dined and socialized as Ken believed in supporting local businesses, having grown up with his family's business, Lollipop Lane, a children's clothing shop in San Carlos. He'll be missed.
A Celebration of Life will be held on Saturday, November 19th, 2022 at the Palo Alto Elks Club Lodge, 4249 El Camino Real, Palo Alto, from 1:00 to 5:00 pm.
For those wishing to remember Ken, donations may be made to the Palo Alto Elks Club Lodge, 4249 El Camino Real, Palo Alto, CA 94306.