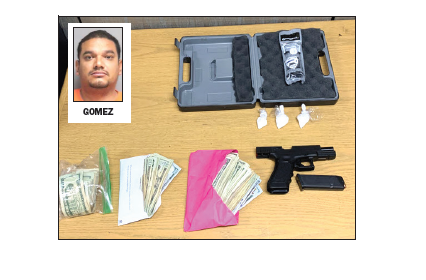 BY EMILY MIBACH
Daily Post Staff Writer
A San Carlos man was arrested for allegedly shooting at Hoover Park in Redwood City that caused a lockdown of the Boys and Girls Club and Hoover Elementary School.
Police arrested Jorge Daniel Gomez, 33, at his home on the 2700 block of Melendy Drive on Thursday.
The shooting occurred on Aug. 19 around 3:30 p.m. when there was a small number of children and their parents in the playground areas. No one was on the soccer field next to the park.
However, the windows at the Boys and Girls Club were hit with gunfire. An employee was in jured by shattering glass but did not need to be taken to the hospital, police said at the time.
Both Hoover School and the Boys and Girls Club went into lockdown.
Gomez's intended target was not hit by the shots, according to police.
After the shooting, more than 30 police officers and two police dogs surrounded the area and searched for the men involved in the shooting but could not find them.
When police arrested Gomez, they found he had a loaded Glock gun, over three quarters of an ounce of meth. Police also took over $3,000 "as evidence of illegal drug sales," according to a statement from Lt. Nick Perna.
Gomez was booked into jail for suspicion of attempted murder, possession of meth for sale, negligent discharge of a gun and being a felon in possession of a gun.
He remains in jail on no bail status and is expected to be in court on Monday, according to jail records.