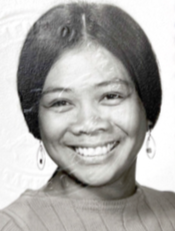 March 1933 – January 2022
Joy Alamar-Pulvers died in the early morning hours of Jan 25th, 2022, just shy of her 89th birthday. The calm and peace she exuded in life accompanied her in death. She died in her own bed, while asleep, and exhibited no sign of pain or discomfort. We would all write a big check to be guaranteed that kind of transition.
Born and raised in Chicago's South side, she strove to become the first in her family to go past high school, graduating from Illinois College in Jacksonville, IL, and then returning to Chicago to get her masters degree in social work from Loyola University.
As an LCSW (Licensed Clinical Social Worker), she spent the better part of her working life in service to others; 20 years for San Mateo County and then a private practice with her office partner, Dr. Jackie Jackson, in Menlo Park. If in no other way, her sane, placid demeanor must have provided solace to any troubled clients. It certainly provided constant solace and comfort to her family.
Through work and through her family, she made strong lifelong friends. If a bad word was ever said about her, it was never heard in these quarters.
She is survived by her daughter Sarita Burbank, her son-in-law James Burbank, their three sons, Trey, Desmond, and Reece, and a husband. And to him, she always remained the most beautiful woman in the world.