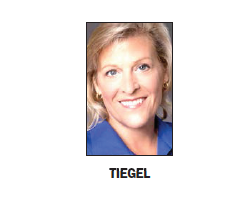 BY EMILY MIBACH
Daily Post Staff Writer

San Carlos City Council will hold a trial of sorts Monday (May 23) to decide if City Treasurer Inge Tiegel broke city rules by campaigning against a moratorium that would temporarily stop development of land in which she has an ownership interest.
The land in question is located at 205 Old County Road in the industrial east side of San Carlos.
If a majority of council members finds that Tiegel was in violation of the city's Code of Conduct, they can decide whether "sanctions" are necessary. This could be a warning to Tiegel, or a referral to the county's grand jury, which can look into removing her from office, similar to the current court case against Santa Clara County Sheriff Laurie Smith.
The council is determining whether Tiegel broke city conduct rules based on two interactions. The first occurred when Tiegel emailed City Manager Jeff Maltbie on April 18, asking him if there is anything he can do to "convince the City Council" to not approve a building moratorium in a portion of the city's eastern side.
Council approved the moratorium April 25.
Tiegel also asked Maltbie if there are "any fiscal/ financial repercussions that I can bring up at the meeting as City Treasurer to help oppose this item?"
Emailed other property owners
Attached to her email, Tiegel forwarded to Maltbie an email she sent to various property owners in the moratorium zone encouraging them to oppose the moratorium and adding housing to the area. In that email, she identifies herself as a "third generation property owner and current San Carlos City Treasurer."
Maltbie forwarded the email to City Attorney Greg Rubens, who told the city manager not to respond.
Rubens and Mayor Sara McDowell wrote a report to council that said Tiegel included the Old County Road property on financial disclosure forms, as required of elected officials.
The property is within the moratorium zone, Rubens and McDowell said.
The property is owned by a limited liability corporation, or LLC.
The LLC is made up of two irrevocable trusts, one of which her father is a member. Upon her father's death, she could inherit 8.33% of the property, according to Rubens, who reviewed the property's deed.
An appearance of a conflict alleged
Although McDowell and Rubens say in their report that it doesn't appear Tiegel broke any conflict of interest laws, she likely broke the city's code which frowns upon any officials appearing as if they have a conflict of interest.
"As a member of an association and representing herself as an owner of property in the area to be considered for the moratorium, she sought to influence a pending City Council agenda item by communicating with the City Manager (an official) using her title as City Treasurer, in an effort to oppose that decision and lend credibility to her personal opposition to the issue. This created a clear appearance of a conflict of interest, likely violating this provision," the report by McDowell and Ruben states.
The other incident involves former San Carlos Mayor Mark Olbert.
Early last month, Olbert was advertising a panel discussion he was hosting at the San Carlos Adult Community Center to get more people to run for public office. Tiegel responded to one of Olbert's posts on social media asking why Olbert had not included any women or minorities on his panel. Olbert responded by saying that due to scheduling conflicts and other reasons, the panel is made up of mostly older, white men.
Tiegel thanked Olbert for his response and then implied that Olbert had not rented the room where the discussion was to take place, and that any time city employees spent on the event should be reimbursed.
"As the city treasurer, I want to make sure that the city facilities are used for the benefit of our citizens, and within the guidelines of our Parks and Rec department. While I certainly support and encourage you to get people engaged in running for council, you may beed to do so virtually or from the comfort of your home," Tiegel said.
Was it disrespectful?
Rubens and McDowell state in their report that it's possible Tiegel violated city code related to city officials always showing their respect to residents. They say Tiegel's statements to Olbert are accusatory. She also did not make clear that her statements both to Olbert and in the email she forwarded to Maltbie that her comments are her personal opinion and not related to her duties as city treasurer.
In all, McDowell and Rubens reviewed eight parts of the city's code of conduct and found Tiegel may have violated five of them. However, it will be up to the entire council to decide if she violated the code at all.
The Post called and emailed Tiegel yesterday to get her side of things, but did not hear back.
Elected in 2020
Tiegel was elected to the position of City Treasurer in 2020 after longtime City Treasurer Michael Galvin retired. No one ran against her. The city treasurer is in charge of overseeing the city's investments, deposits and overall money management, and makes $560 a month.
San Carlos is one of a dwindling number of cities in the area that has an elected treasurer.
In 2018 Belmont residents voted to get rid of elected treasurer and city clerk. Those jobs are now performed by employees hired by the city manager.