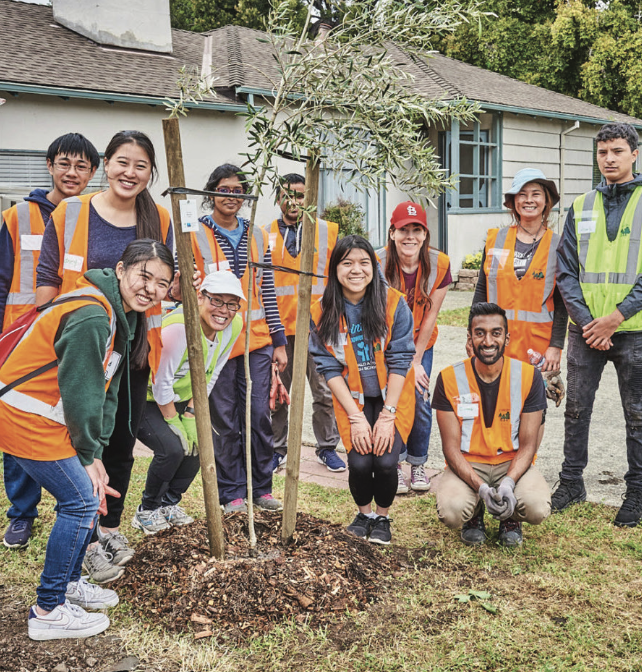 Want to celebrate our neighborhoods' trees and the people who advocate for them? Come gather with Canopy as the local nonprofit celebrates its 25th birthday next month.
Based in Palo Alto, Canopy has been putting down roots in Peninsula communities since 1996, planting trees, connecting people with nature in their neighborhoods and helping residents learn how to care and advocate for trees themselves.
They invite everyone to come celebrate with them at a birthday bash and fundraiser on Saturday, June 18 at a courtyard at Eastside College Preparatory School in East Palo Alto. The fully outdoor event, which will include a buffet brunch, will go from 11 a.m. to 2 p.m. in the shade of 20 trees the organization helped plant more than 10 years ago and feature keynote speaker Dr. Nalini Nadkarni. An ecologist, researcher and educator, Nadkarni is known as "the Queen of the Forest Canopy." Her address will connect her research on forest ecology to Canopy's work bringing life to neighborhood tree canopies. In addition to Nalini's talk, guests will have a chance to mingle with friends old and new, explore interactive displays, and learn about the history of local urban forests.
"Trees are essential to our well-being, especially in urban environments," said Catherine Martineau, Canopy's executive director. "The heart of this event is thanking the many volunteers, supporters and partners who have helped Canopy plant and care for trees where they are needed the most. It truly takes a village to grow the urban forest, and this celebration is for everyone!"
The event will be emceed by Santa Clara County Supervisor Joe Simitian, whom the organization says has championed the cause of trees and urban forests throughout his distinguished career as a state senator and county supervisor.
In addition to the other festivities, Canopy will use the occasion to honor eight longtime volunteers whose efforts have helped the organization grow. They are: Canopy co-founder Susan Rosenberg; former Canopy board member Marty Deggeller; former East Palo Alto Mayor Pat Foster; longtime Palo Alto urban forester and now CAL FIRE Urban Forester for California Walter Passmore; Canopy Teen Urban Forester alumnus Eric Perez; arborist Jason Shirar; Ravenswood City School District STEM coordinator Nico Janik; and Project Safety Net Program Coordinator Peying Lee.
Full-price tickets are $125, but guests can also purchase sliding-scale tickets from $0-100. Premium tickets and sponsorship opportunities are also available. To learn more about this event, buy tickets and explore giving and sponsorship opportunities, go to canopy.org.