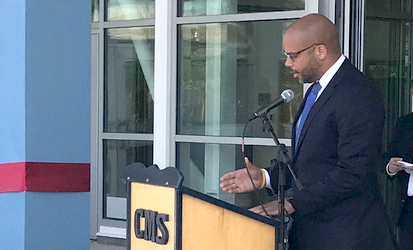 BY BRADEN CARTWRIGHT
Daily Post Staff Writer
A teachers' union and the Mountain View Whisman School District are battling over their next labor agreement, and a mediator has been called in to help.
On one side, the union wants smaller class sizes and their daily hours capped at 6 hours and 55 minutes. If they have to work more than that, on things like lesson planning or going to meetings, they want overtime pay.
In 2020, the average pay of a teacher was $87,409, according to Transparent California, a nonprofit website that collects public sector compensation information. With benefits, the total compensation per teacher was $112,512 on average.
The union also wants a permanent substitute at each school and more yard supervisors, according to their website.
On the other side, Superintendent Ayinde Rudolph said the district is offering a 21% raise over the next three years, making the teachers some of the highest paid in the region. Average class sizes are comparable to neighboring districts, and teachers are only required to go to one after-school administrative meeting a week, he wrote in a letter to the community.
The labor agreement expires on June 30. The first mediation session is scheduled for March 1.